Sweet Release! Skylanders SuperChargers, Blood Bowl II, FIFA 16, Shoot 1UP, Animal Crossing: Happy Home Designer
By Jared Cornelius
Welcome back to Sweet Release! Bleeding Cool's look at the new games hitting store shelves and digital platforms. Here in the garden state summer winds down kind of slowly in September. As hot weather turns mild and the days get shorter it's easy to be reminded how fall is creeping into our lives. You're local big box stores have no doubt taken down the back to school merchandise and replaced it with Halloween decorations despite the holiday being more than a month away. The big television season premieres are nigh, and of course the proliferation of fake pumpkin spice products has hit in absurd quantities. The cycle of video game releases very much follows a pattern too, as you may have noticed room being made for the various flavors of "Toys-To-Life" themed figures. Yes dear reader it's that time of year again where small plastic figures will be dominating store shelves so let's jump right in with the second big "Toys-To-Life" release of the year.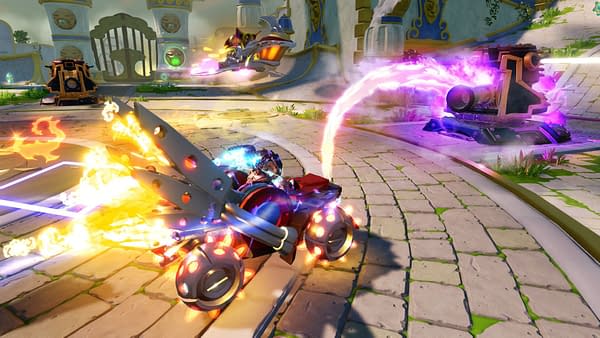 The originator of the "Toys-To-Life" genre of game returns this week with Activision's Skylanders SuperChargers. The isometric action adventure game is in its fifth incarnation and seeks more hard earned cash with its newest gimmick, vehicles. If you're not familiar, "Toys-To-Life" is a game style that essentially sells physical downloadable content, with real life figures materializing in the game when placed on a USB portal. If you've been in a video game aisle in the last five years they're almost impossible to miss, being allocated huge areas in big box retailers like Target, Walmart, and Gamestop.
The series takes place in world of floating islands called the Skylands where an each game pits magical heroes called Skylanders against antagonist Kaos and whatever gimmick the series is selling that year. The addition of vehicles and races adds to the already simple yet full featured gameplay including combat, platforming, and card games that punctuate the series. With four different classes of vehicles and the new gameplay modes SuperChargers feels slightly more substantial than last year's Trap Team. However much like last year requiring the purchase of a new $75 dollar starter pack, you'll be encouraged to pick up another one as this year's versions doesn't include a portal owners pack like in previous years.
The series on a whole plays very much like baby's first Diablo and is pretty forgiving with platforming deaths and allocation of loot in two player mode. The good news about this series is it's the most user friendly of the "Toys-To-Life" genre with any characters from previous games being compatible with the new versions, you just can't go backwards with new characters in old games. This year is also rather interesting as the Wii U version will have compatibility with Nintendo's Amiibo figures, specifically a Bowser and Donkey Kong that can swap between Skylanders and other Nintendo games. By the time you read this the shelves will already be stocked as Skylanders SuperChargers released Sunday on PlayStation 4, PlayStation 3, Xbox One, Xbox 360, Wii U, Nintendo 3/2DS, and I0S. Are you ready for some football! I am, but a just a few short weeks ago I told you how board I felt with the Madden franchise. Well this week a confluence of jock and nerd culture smashes together as Games Workshop Warhammer series comes together with American style football in Bloodbowl II. The fantasy football series unfortunately isn't the spiritual successor to one of my favorite games, Mutant League Football, offering a more action oriented approach, but instead relies on roleplaying game mechanics and dice rolls to determine the outcome of plays. Based off Games Workshops board game series of the same name Blood Bowl has been the around for some time, but debuted last generation on Xbox 360, PlayStation Portable, and DS if you lived in Europe. Pick your team from one of seven races including elves and orcs, and play in one of twenty customizable stadiums for pigskin glory. The developers at Cyanide Studios have also added some mechanical tweaks like better A.I. an updated graphics engine, and even added an online player market where you can buy, sell, and trade characters. I actually don't like fantasy football, but Blood Bowl II looks more like high-fantasy football. Blood Bowl II released Tuesday on PlayStation 4, Xbox One and PC.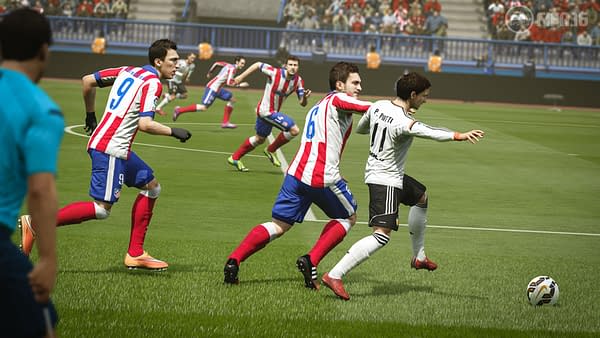 EA Sport's stranglehold on every sport under the sun continues this week with the launch of their biggest worldwide money maker FIFA 16. The international football simulator is actually one of EA's better performing sports games, reviewing higher than the last few iterations of Madden. On paper FIFA 16 is very similar to last year's game with a host of iterated updates and tweaks to the base controls including no touch dribbling and "Dynamic Crossing". If you can believe it one of this year's big innovations in the inclusion of 12 top female teams making it hard to believe that's been excluded for almost twenty years. FIFA 16 also includes EA's free-to-play style microtransaction Ultimate Team mode that has you using cards to build a football team. My heart has warmed to soccer over the last year, but FIFA has a lot of the same problems as Madden, not enough innovation, bare bones upgrades, and it doesn't help FIFA is run by some of the worlds most crooked people. Editorializing aside, FIFA 16 released Tuesday for PlayStation 4, PlayStation 3, Xbox One, Xbox 360 and PC.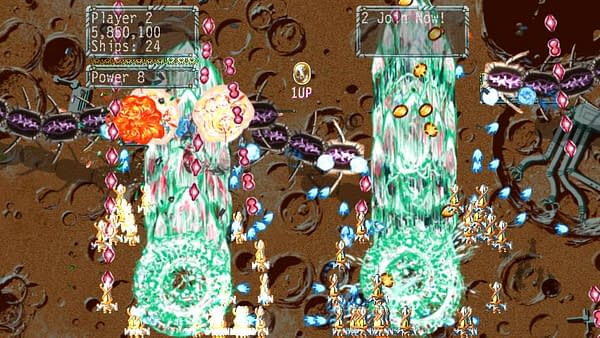 You may not have gotten the note last week, but Microsoft is planning on closing their Xbox Live Indie Game channel in 2016. While the loss of the program isn't the biggest deal, it did provide developers a unique avenue to get their games out in front of people. Case in point, the fantastic 2D shooter, Shoot 1UP from Mommy's Best Games. Made by former Insomniac alumni, Shoot 1UP has its DNA firmly rooted in the Neo-Geo era of shooter. It's classic look and feel aside, it sets itself apart from other "Shmups" by having players collect 1up's in the form of additional ships that add to an ever growing armada that multiplies your shots. Your ships aren't invincible though, and you'll need to expand and contract your extra ships when dodging enemy fire to save them. Shoot 1UP offers players some light choices like choosing a branching path, but revels in its classic "Shmup" style shooting for a mix that can't be beat. Shoot 1UP releases on Steam on Wednesday and is currently available on Xbox 360.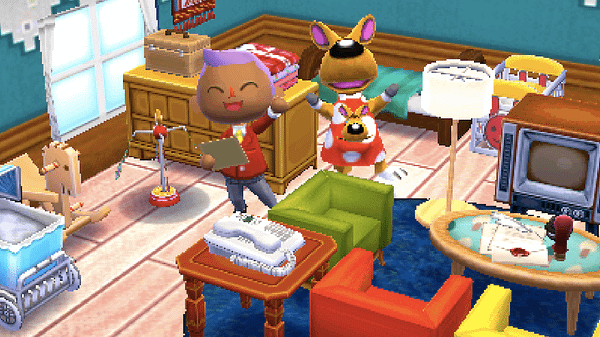 As insidious as the Skylanders franchise has become, Nintendo and its ever expanding Amiibo array are almost on equal footing, if not worse. Now you won't just have to seek out Nintendo's figure series, you'll also have to track down trading cards thanks to Animal Crossing: Happy Home Designer. The latest in Nintendo's popular small town simulator, has you playing interior decorator for the series cast of furry villagers. The hook of Home Designer is based around Nintendo selling $8 packs of "Amiibo" cards that scan into the game and unlock characters and items. This was strangely built for the New Nintendo 3DS, and for interested parties who don't own one, you'll need Nintendo's RFI scanner for Happy Home Designer to work properly. But good news! Nintendo are selling a bundle that includes one Amiibo card and the RFI reader. It's only mildly insulting they include a single card, but it's Nintendo we're talking about, they make great games, not choices. Animal Crossing: Happy Home Designer releases Friday for the Nintendo 3DS.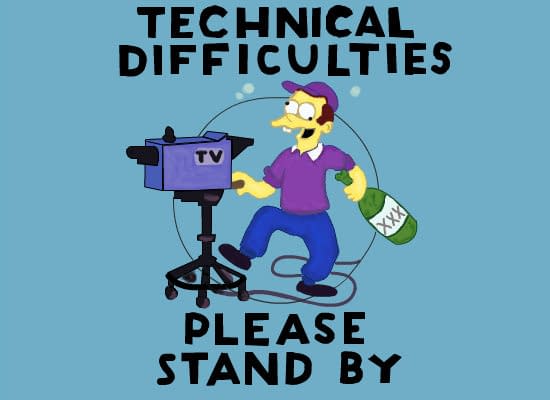 Just a quick correction from last week, 3D Sonic The Hedgehog 2 got pushed back after last week's Sweet Release! had already been published. Look for it on the Nintendo e-Shop on Thursday.
That's all for this week folks, make sure to check out my other regular column, Typing on The Dead, where I review and recap the latest issue of The Walking Dead.
Jared Cornelius is some guy from the Jersey coast who's writing hastily in preparation of a wedding. Say so long to wedding season @John_Laryngitis on Twitter.