Warframe: The New War Will Release In Mid-December
Digital Extremes revealed that the next expansion on the way for Warframe called The New War will be coming out in mid-December. The content will have a ton of new additions including a free Cinematic Quest line, in which you'll be thrown into the mix of constant battles while the team marries a personal story of self-discovery with what they're calling "an action-packed space opera". This will take everyone across 16 planets with three Open Worlds, as you are tasked with trying to restore balance to the fractured Origin System. You can check out the latest trailer below as everything will be released on December 15th, 2021.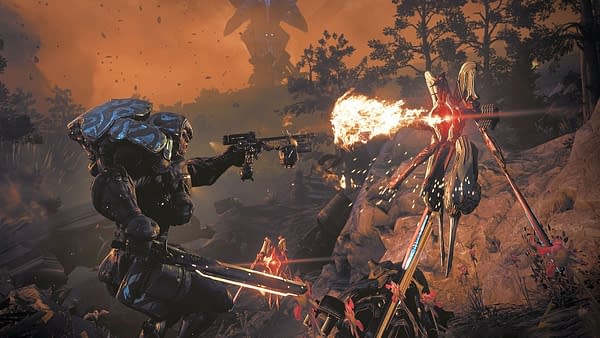 The next and biggest chapter in Warframe's free Cinematic Quest line, The New War will see players controlling new playable characters for the very first time as they work through dramatic twists and turns across 3 Acts. As they experience various Missions in new environments, including Open Worlds besieged by Sentients, players will overcome dangerous new threats and challenges while unearthing answers to long-standing questions about Warframe's sprawling sci-fi universe. Take control of iconic enemies including Kahl-175 the Grineer, Veso the Corpus Tech, and the Dax: Teshin, as they fight across the Origin System to push back the invading Sentient force. While the war rages on, so will the fight for the truth behind the conflict – understanding the Lotus' past to unlock a new future. Additional features launching with The New War include new Customizations, Weapons, and Accessories, along with Warframe's 48th unique Warframe, Caliban – a Sentient-Warframe hybrid.

New Warframe players, and those returning to the game to experience its Cinematic Quest, will now find it easier to navigate Warframe's Quest line with the Tenno Guide, a UI improvement recently introduced to help guide new players complete their next steps in Warframe's Cinematic Quest. This new feature is auto-enabled on log in, and can be disabled at any time in the menus under Options. Additional quality of life improvements have also been made to significantly reduce grind time in Warframe for players on the Cinematic Quest track.