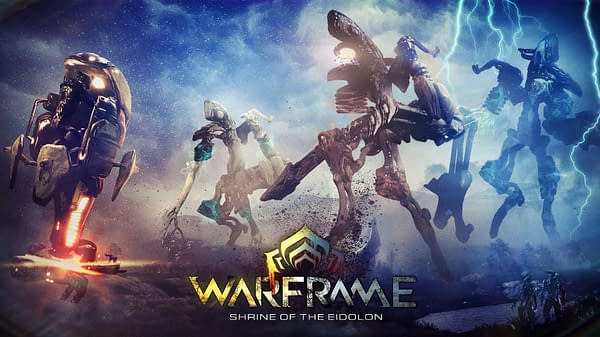 Warframe continues to change thanks to the sweeping Plains of Eidolon expansion, and Digital Extremes' next update, Shrine of the Eidolon, will alter the way players approach weapons, and Warframes with a slew of balance changes. The update "re-organizes the Mastery Ranking of more than 150 weapons, re-balances more than half a dozen Warframes, rattles with the footsteps of two new towering Eidolons, and offers players the chance to dominate the skies with the rideable Dargyn."
This should make gameplay in Warframe a little bit more diverse, and give the combat some new life thanks to the system changes.
As for the in-game content changes for the update? Well, you can check out the official description:
Rumors from Cetus have spread about sightings of towering, magnificent creatures haunting the Plains of Eidolon at night. In the past, Ostron legends have told in hushed accounts of long dormant Eidolons rising again in special conditions. Debuting together in Devstream 103, the Gantulyst is a towering new beast, nearly twice the size of the original Teralyst (first introduced with Plains of Eidolon), wielding a rock for an arm and capable of hurling a massive ball of energy that rotates and radiates powerful beams of Sentient energy in all directions. The Hydrolyst is a toxic, deadly creature more powerful than its giant brethren. It creates toxic storm clouds, pouring out poisonous Sentient energy that deals constant damage, challenging the most experienced Tenno like never before.
So let's hope you remember the original Teralyst battles and remember how to run team strategies. If not, well, it'll be a trial by fire. In addition to the new challenges, players will also have access to a rideable Dargyn, a solo airborne craft used by the Grineer, which will allow you to power-glide across the map.
And by logging in within one week of launch, players will receive free items including a three-day Affinity Booster, 3X Forma, and a 1X Exilus Adaptor.
You can check out the update trailer below.
Enjoyed this article? Share it!