What's In The Box?! Loot Crate DX – March 2018
After nearly a year of reviewing the Loot Gaming box, we finally got a chance to try out some of Loot Crate's other monthly subscription boxes that they send out every month with a bunch of cool goodies. The first of a couple new ones for me is the Loot Crate DX, not to be confused with your normal Loot Crate, this one is a bigger box that usually stores better stuff inside. Let's crack open the March box and see what's inside.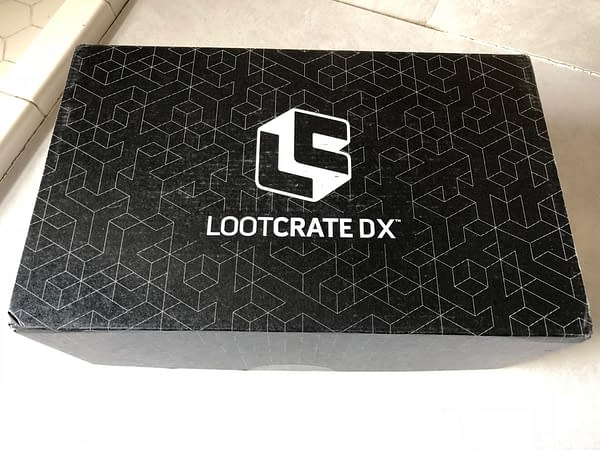 This month's theme is "Playback", primarily because of the release of Ready Player One in theaters. So we start with the most appropriate in the box, which is a copy of the novel. There's nothing too special or remarkable about this edition be Ernest Cline, it's basically the paperback version currently on shelves. It's here to get anyone who doesn't own a copy familiar with the source material, and a gift to give a friend for those who do have it. Pretty awesome to get a full novel of it regardless!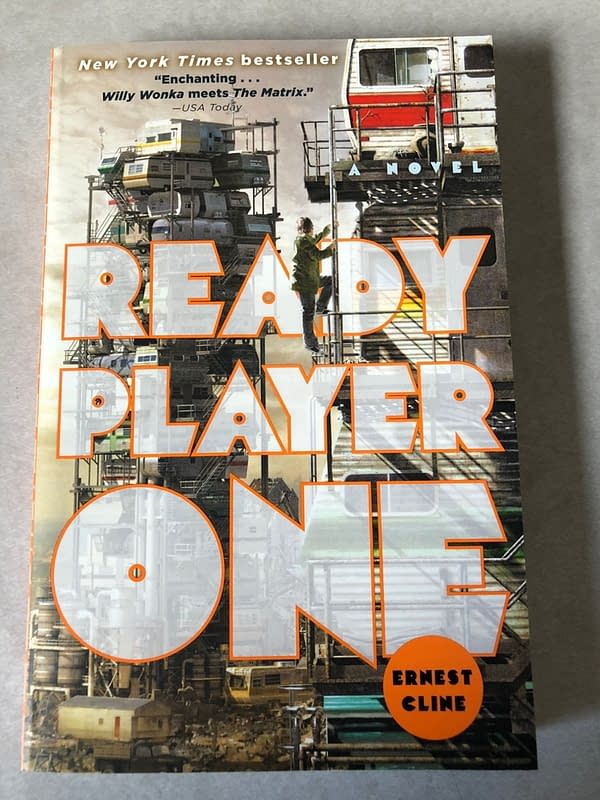 Moving to the pin for this month, we get three small pins in the form of classic Atari 2600 titles from Activision. These are three cartridge art covers for River Raid, Pitfall, and Kaboom! The enamel on these is pretty well done, and the design is perfection. The only drawback is that these have metal backings instead of rubber, meaning you're probably tearing up whatever shirt or skin rubs against it. The look amazing regardless.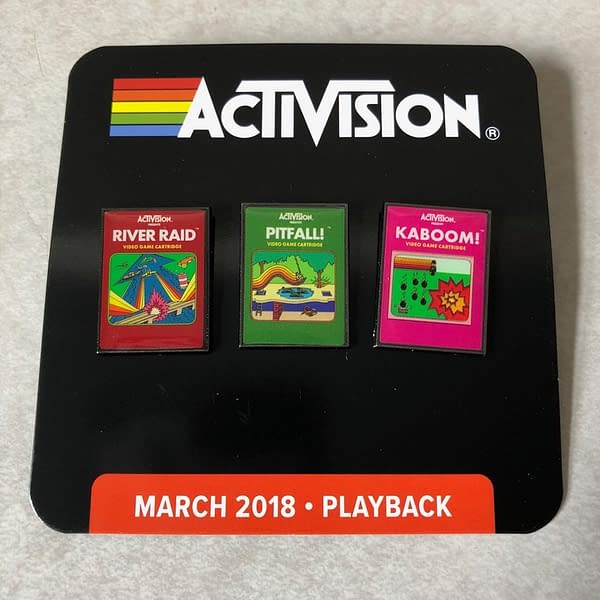 Next up, we get some pretty cool bendable action figures in the form of Batman and Robin from Batman: The Animated Series. These are original model TAS figured, back when Batman's cape had blue behind it to define him and the bat symbol on his chest was the traditional black on yellow. Not to mention Robin in his updated look that got him out of the green trunks and into a pair of pants. Depending on how you feel about bendable figures, this is either really cool or really stupid. They basically can be bent like Gumby figures, meaning I can put Batman's leg behind his head and twist Robin's arms into a knot if I wanted to. The upside is to have fun and pose them in weird ways, the downside is they may not bend back to normal without a lot of effort. We're just happy to have Batman figures, so this was amazing.
Another '80s throwback is this Back To The Future collapsable duffle bag. As you can see from the pictures below, this is a medium-sized duffle that folds up into a small pouch. The small version shows off the Flux Capacitor, and when you unfold it you get a cool sleek great bag with a DeLorean pattern that shows off the different incarnations of the car over the trilogy. This is something I'll actually put to use going to conventions as I usually end up with extra stuff than what I brought with me. No complaints about this at all!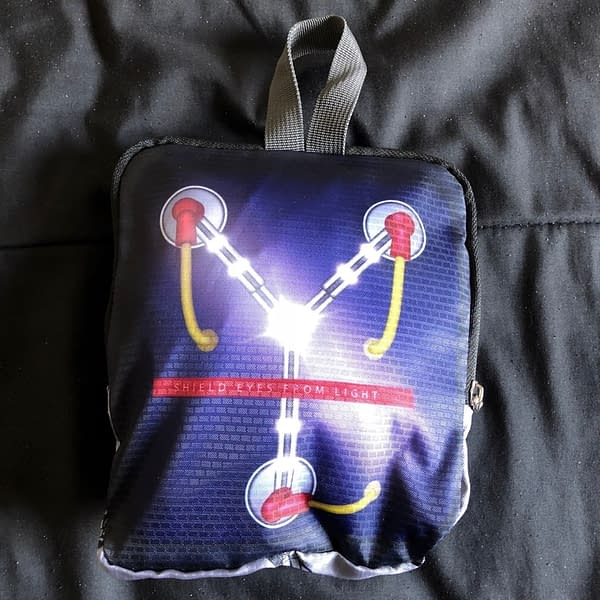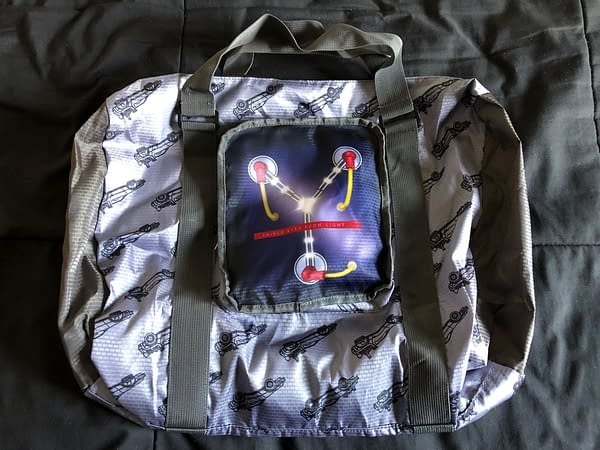 Getting onto some of the fabric-related items in the box, we have a Pac-Man Throw Blanket. This blanket is about 3'x5' with the classic artwork from the side of the original 1980 cabinet design, featuring an oddly shaped Pac-Man smiling with feet looking up at a weird drawing of Inky trying to eat him. We can't be too judgemental, it was the '80s and no one knew what the series would turn into at the time. The blanket itself is pretty soft and durable, makes a nice decoration for any game room couch or to throw on a kid's bed. The only downside is that its fleece and it didn't come with any instructions on how to wash it.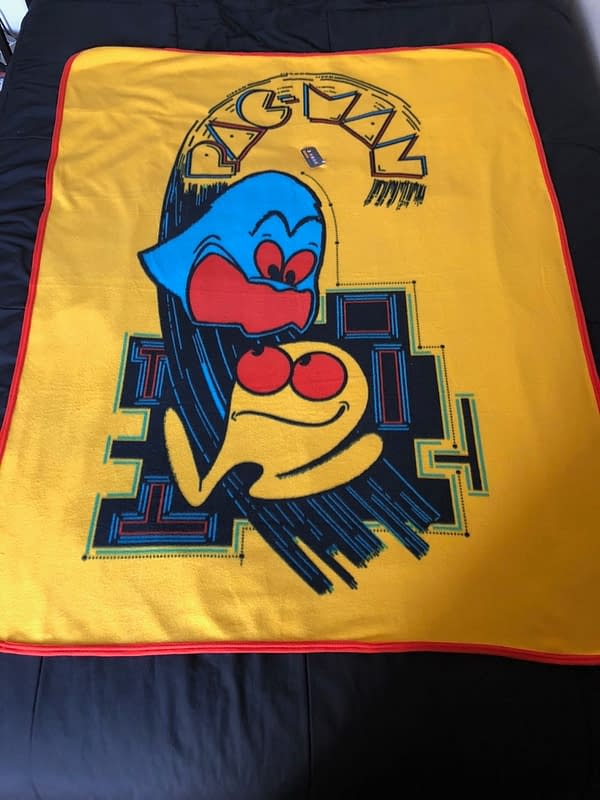 Finally, the make-or-break item of the box: the t-shirt! Keeping with the '80s and Pac-Man themes, we get this lovely Pac-Man screen shirt, showing off what happens when you reach the 256th level of the game and you end up causing the kill screen glitch. This is one of the most famous end-game images in history and now you get to wear it across your chest. This is actually really cool and only a handful of people will get, even though it's been around for nearly 40 years. This is a winner!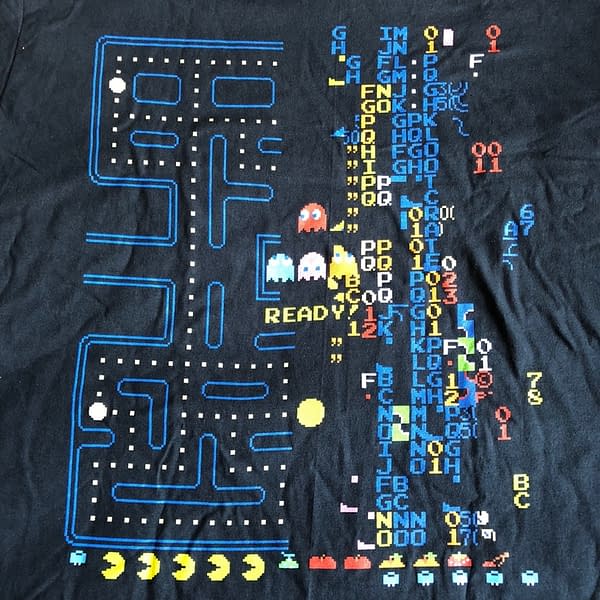 Overall, I'm quite pleased with the Loot Crate DX. It feels like all of my normal Loot Crate items got an upgrade to first class, or at least transformed into bigger items that we wouldn't get in a normal box. The price does go up as the plan is $50, but if I had to total everything in here, you're looking at $80-90 of merchandise. That's not too shabby! I look forward to seeing what they send me next month.