What's in the Box?!: The Nick Box – Spring 2019 Edition
One of the latest subscription boxes to cross our door was the Spring 2019 version of The Nick Box, designed to look like an old time capsule. The last box we reviewed from these guys was absolutely amazing and took us back to a time in our lives of watching Nickelodeon we can only wish came back for a modern era. But can this new box hold up to the previous one or do better? We broke open the capsule to find out.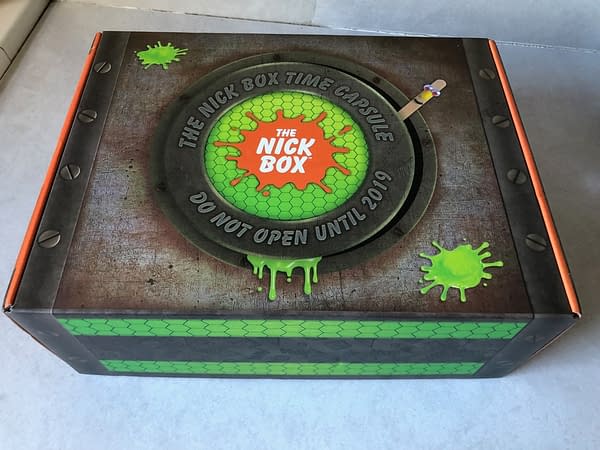 The first item at the top of the box was this fanny pack for Clarissa Explains It All. You get the classic logo on the front with super '90s geometric designs from the show's opening title sequence in pink, purple, blue and teal. I can think of a bunch of women who to this day would want this around their waist just for the fun of having it. The pack is about the same size as any you would find on the market today, with an adjustable nylon strap with a snap buckle. I liked this, even though it's not my taste, it's so incredibly '90s.
Next up we have snap bracelet specifically for The Nick Box. You get a bunch of familiar Nicktoon faces on both sides with Hey Arnold!, Ren & Stimpy, Aaahh!! Real Monsters, The Angry Beavers, Catdog, and Rugrats. While it looks kinda cool, it's just a snap bracelet, there's nothing special to it beyond the design. I could take or leave this one as it's just a fashion accessory and not much else.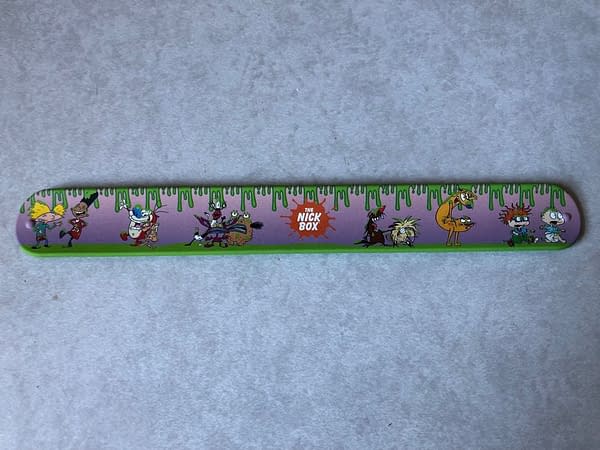 We got a keychain in this box as we have a nod to Nickelodeon Guts. Again, this is a pretty simple item as you get a keychain of a piece of the Aggro Crag. Unfortunately, that's really all it is. I was hoping when I saw this that it would glow in the dark, since that's what the original Aggro Crag pieces would do. But it's just a metal keychain. It's cool, but I feel like it could have been more.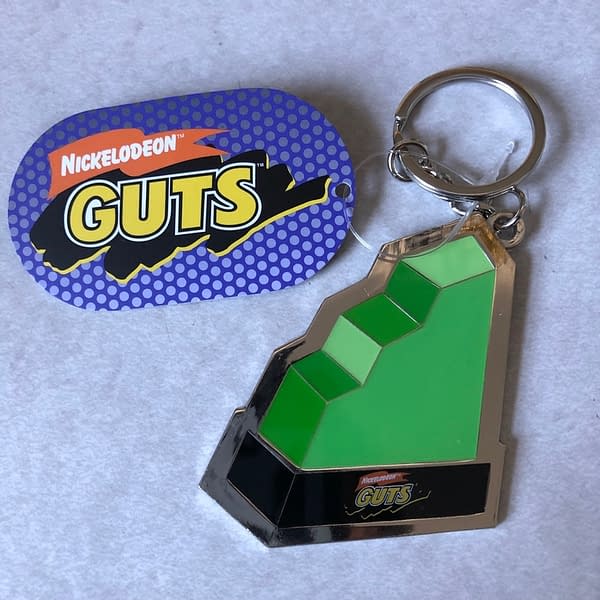 The pin for this set comes to us from the world of Double Dare. This pin is from the obstacle course as you get a pin of Pick It. This game was basically a giant nose make to look like Groucho Marx, with a bunch of green slime stuck up in the nose. You had to lay on your back and pick in the nose to pull out a flag to hand to your teammate for the relay race part of the course. It's a really cool pin with the enamel done pretty well, with a design that only Nickelodeon fans of a certain era will instantly get. I liked this one.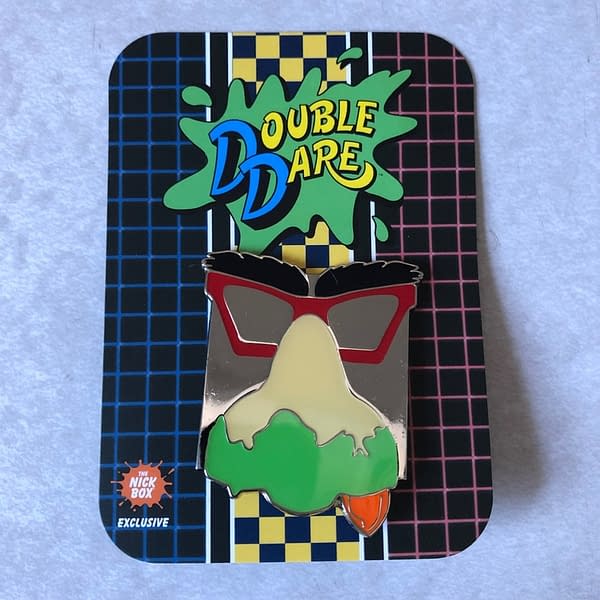 Moving onto one of my favorite shows, Legends of the Hidden Temple, we got a set of Team Animal Coasters! You get all six teams here in stunning glory with the Red Jaguars, Blue Barracudas, Green Monkeys, Orange Iguanas, Purple Parrots, and Silver Snakes. These are some well-made coasters with a decent level of cork on the bottom to hold them in place and a nice paint job on the top so that they won't instant;y wear away once you get a glass with some extra condensation on the side. These are probably my favorite item of The Nick Box.
Staying with Hidden Temple, we were also given an Olmec Pint Glass. This one is exactly as it says, it's a pint glass with the show's logo on the side. The added bonus to it is that it changes color on the eyes from white to red when a heated liquid is put inside. Unfortunately for me, that is not the case. As you can see, not only am I missing some of the decal from the logo, but the eyes did not turn red, even when I put it in a sink of near scolding-hot water. It's still a cool glass to have, but a bit of a letdown.
The vinyl figure in this box comes to us from Aaahh!!! Real Monsters, as we get all three main characters from the show. Here we have Ickis, Oblina, and Krumm all climbing out of a toilet, as it custom for their way of transportation into someone's home, ready to scare the hell out of whoever may be unlucky enough to be their main assignment for the night. I love the added detail of having water splashing out of the toilet and onto the floor as the three of them climb out. Even the scratches on the back of the lid are pretty cool to see. I loved this figure as it made all of them stand out and feel important without any of them taking away from the others. This was really well done and a cool item for any fans of the show.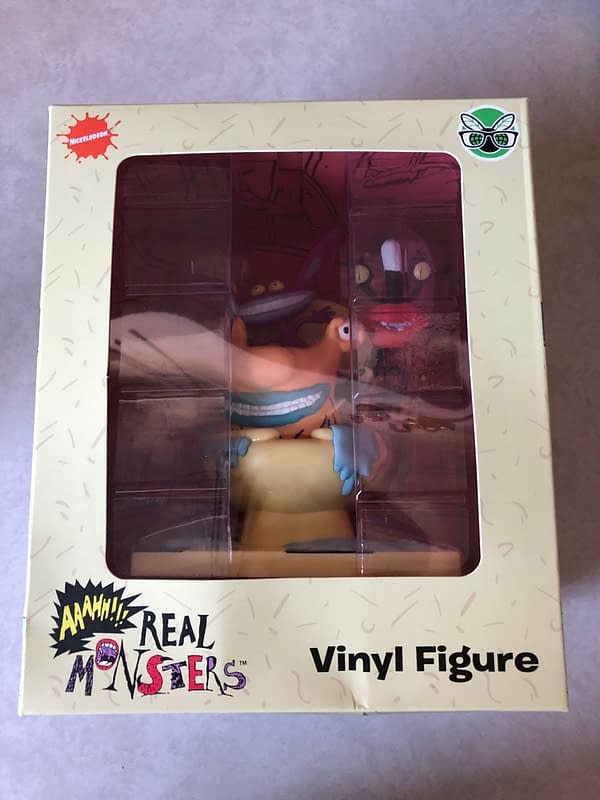 Finally, the make-or-break item of the box, we got a long-sleeved shirt featuring Stick Stickley. Many fans may not remember, but for a time, Stick Stickly was a sort of mascot for the network and introduced shows in the mid-afternoon block. He was just a popsicle stick with a face, but he caught on in a big way and was a staple of their lineup for a few years in the mid-90s. He even got his own talk show, which you see here. This is a cool little flashback piece for those of us who remember the show and the character, but it was a little weird to get it on a long-sleeved shirt with a Spring 2019 box. The design is nice, however, and is a pretty cool addition to have.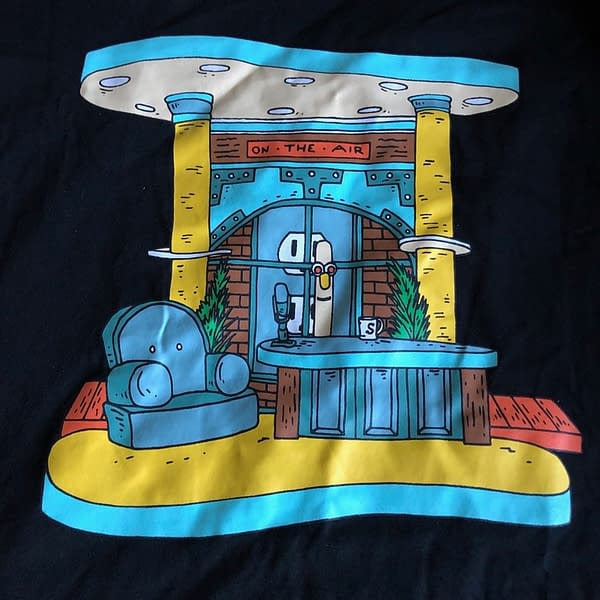 Overall, I enjoyed The Nick Box for the Spring of 2019. There are a couple of things they could have improved on and there was a letdown with the pint glass, but overall the box was well-made and had enough nostalgia to make younger me happy. I'm curious what they'll have planned for the Summer box whenever it comes, but I'm looking forward to seeing what they have in store.