World Of Warcraft: Dragonflight Has Launched The Trading Post
After being teased for a while, Blizzard Entertainment has officially added the Trading Post to World Of Warcraft: Dragonflight.
---
Blizzard Entertainment has released a new update for World Of Warcraft: Dragonflight, as the game now has the Trading Post. The pis is basically a way for you to earn new additions for your character, such as mounts, gear, pets, and other accessories. You do this by completing activities, which fill the bar at the top of the Traveler's Log, which you can find in the Adventure Guide for every character. We have the dev notes and details below, as the team has more to show off on their latest blog.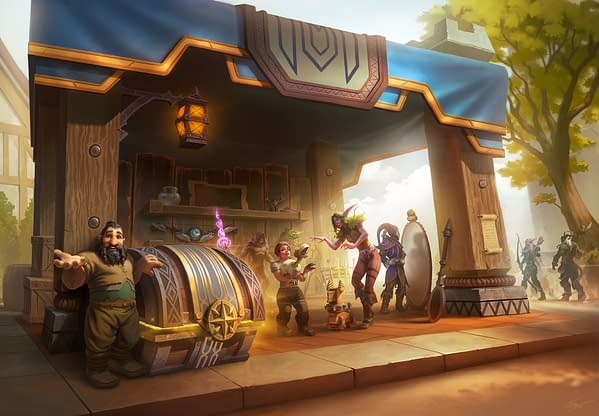 "Calling all adventurers! A new set of traders will be moving their wares into the capital cities of Stormwind and Orgrimmar, along with an all-new way to earn rewards. The Trading Post is now open for business with a multitude of mystical, magical items to add to your collection with just the exchange of Trader's Tender—earnable through a variety of in-game activities. Visit T&W (Tawney and Wilder) just outside the Mage District in Stormwind or the Zen'shiri Trading Post next to Grommash Hold in Orgrimmar to check out all the latest items they have available."
Trading Post Currency: Trader's Tender
Players can earn tender in two ways:

Logging in: Players are awarded 500 tender by simply logging in each month.
Completing Traveler's Log Tasks: Tasks within the log vary, reset at the start of every month, and are meant to accommodate any playstyle across PVE and PVP with the potential to earn up to an additional 500 tender.
Trading Post Locations: Stormwind & Orgrimmar
Members of the Alliance can head to the Mage District within Stormwind to meet with traders Tawny & Wilder.
Members of the Horde can meet with Zen'shiri, who has set up post outside Grommash Hold in Orgrimmar.
Store Offerings
The Trading Post will have a monthly rotating inventory with some higher-cost items, such as mounts, staying for up to three months.
Items that rotate out will not be gone forever and will find their way back into the Trading Post in the future.