Yankees' Gerrit Cole Announced As MLB Perfect Inning 23 Cover Athlete
Yankees pitcher Gerrit Cole has been named the cover athlete for MLB Perfect Inning 23, as the game will be released later this month.
---
Com2uS and the MLB have come together to reveal the cover athlete for MLB Perfect Inning 23, as the Yankees star pitcher Gerrit Cole takes the mantle this year. The news comes as the company has opened up pre-registrations for the game, offering up Cole's Highlight Card and dozens of Player Packs when the new season launches later this month. We got more details on the game below and the latest trailer as we now wait for the proper release date.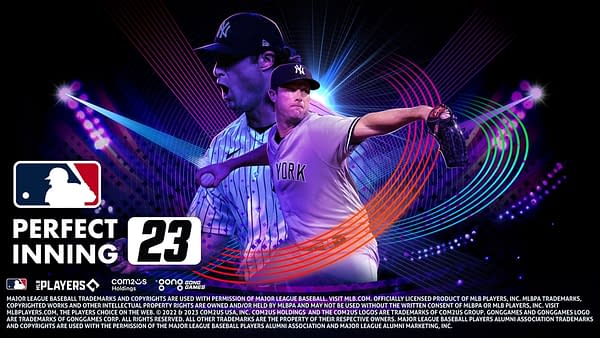 "MLB Perfect Inning 23 is both the follow-up to MLB Perfect Inning 22 and the new name for MLB Perfect Inning: Ultimate, which will sunset alongside this update. The new MLB Perfect Inning 23 will build upon Ultimate's cutting-edge 3D visuals and animations with updated stadiums, uniforms, and players to mirror the real-world 2023 season. With added gameplay and UI/UX improvements, Perfect Inning 23 sets a new standard of excellence for baseball action on mobile devices."
Featured Player Gerrit Cole: Hot off a record-setting season as the first Yankees right-hander in history to lead the league in strikeouts, power pitcher Gerrit Cole is MLB Perfect Inning 23's star athlete. Pre-register to score his Highlight Card, plus 23 Platinum, Gold, and Advanced Player Packs.
The Best Baseball On the Go: The Perfect Inning franchise is known for its faithful, no-compromises on-the-field action, and this year's update is no exception. Experience lifelike visuals with realistic player animations and a game engine designed from the ground up for baseball. Every throw, pitch, and swing counts wherever fans want to play.
Big Rewards: During the Ultimate Welcome Event, players of MLB Perfect Inning 22 can obtain special rewards, including Platinum Player Packs for making the jump to Perfect Inning 23, plus Perfect Inning Coins based on their Perfect Inning 22 achievements.
New Content: Team up with fellow club members for the all-new Club Match mode, featuring unique challenges to tackle as a team. Collect legendary baseball players through the new SE (Special Edition) Legend Cards.
More Ways to Play: The new Club Match missions join Franchise mode, Live Season mode, Rank Missions, and the real-time competition of PvP League, all updated with the 2023 season's stadiums, rosters, uniforms, and match-ups.