Technology with a Soul: The 2018 Philip K. Dick Science Fiction Film Festival
The 6th annual Philip K. Dick Science Fiction Film Festival is right around the corner, and the event's list of featured films, series and guests is incredibly impressive. Set to begin on February 23rd and run 'til the 25th, there will be screenings in the boroughs of Manhattan and Queens, NY.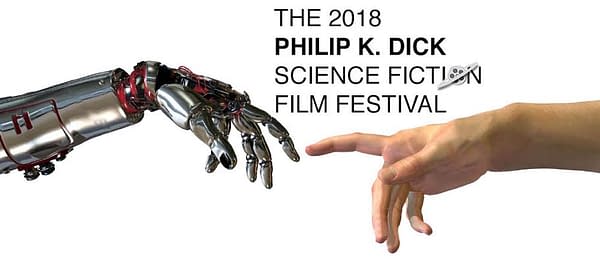 The Philip K. Dick Science Fiction Film Festival was created in 2012 to honor the legacy of novelist Philip K. Dick, whose influential stories and thoughts continue to echo modern culture and society. The festival seeks to embrace original concepts and alternative approaches to storytelling, via independent science fiction, horror, supernatural, fantasy, metaphysical and virtual reality films. Since 2013, the festival has held international gatherings in France, Poland and Germany and many domestic screening events throughout the year.
Daniel Abella, the founder and director of the festival, spoke a bit about 2018's expanded focus this year on Dick and his influential work on the genre:
"Every year our films cover different themes of the PKD spectrum. This event focuses heavily on inner worlds, transhuman realities and other types of films including speculative fiction, magical realism and surrealism. Just like PKD, we are very eclectic in our thinking and do not subscribe to one single unitary form of entertainment."
Just some of the expected guests this year include Armand Assante, Charles Baker, ​Michael Ironside, ​Vincent Pastore, Tom Sizemore, Melvin Van Peebles, Chuck Zito, and other yet to be revealed personalities.
There will also be scientists and innovators, some of the most successful individuals in the entertainment, medical and technology industries, on hand to offer their experiences and expertise on the human condition through the eyes of science fiction and vice versa.
"Real human exchange between ​the stars and the audience is a wonderful experience going back to classical Greece," Abella continued. "We are social creatures and need to be with others to find communion and transcendence."
Abella also went on to say that the festival's mission to represent society's issues stands for the work and views of its namesake:
"PKD was a modern-day prophet who foresaw the collapse of humanity under the colossal weight of data, technology and ecological devastation. Narrative themes in these films are more effective in shaping popular thinking than a new review or manifesto.

In our own modest way, the festival represents a resistance against monolithic hypercaptialism and rapacious technology. Think of it as technology with a soul."
The entire list of scheduled screenings are available on the festival's official website here, as well as details on how to get tickets for specific locations/events.