WB dropped a bunch of Ready Player One stuff today, including a new trailer and two new posters, as well as the launch of a mobile game that ties into the film. There was also an aural treat — one that RP1 fans have been looking forward to for quite some time.
The first piece of composer Alan Silvestri's Ready Player One score.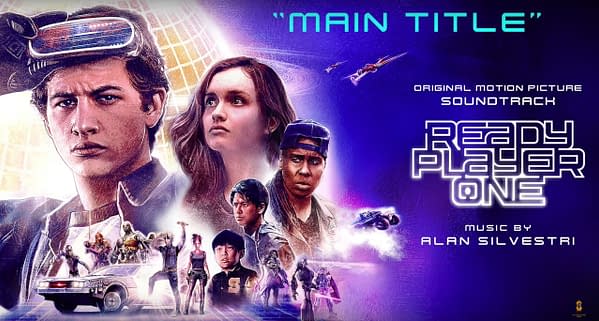 Listed as the "Main Title Theme", the piece was premiered on WB's music side, WaterTower Music, over on YouTube. It's triumphant, it's got horns. But is it inspiring enough?
Don't expect to hear any callbacks to notable works, however, as director Steven Spielberg said of the score:
"While all sorts of culturally iconic references populate Ready Player One, the score that Alan Silvestri composed is completely and intoxicatingly original. It's bound together by multiple themes that identify plot and character and is infused by such percussive adrenaline and soaring strings that Alan has made Ready Player One appear to fly."
Listen for yourself:
Silvestri added:
"An invitation to travel arrived just about a year ago, not just to a place, but to a time. Actually, to a number of times — primarily the year 2045, along with a few stops in the '80s. A rather detailed map had been drawn by Ernest Cline and the Captain of the voyage, none other than Mr. Spielberg himself. What could one possibly do or say? Pencil in hand, one firmly fastens one's seatbelt, says 'Sir, Yes, Sir,' and prepares for the trip of a lifetime."
WaterTower Music will be releasing the RP1 for streaming and download on March 30th, with a two-CD version hitting shelves on April 6th and a double vinyl available July 19th (during SDCC, so that's news!).
Today was press junket day for Ready Player One in Los Angeles, and photos from the event are starting to come in. One of our personal favorites? Why, that'd be Spielberg playing Space Invaders, of course.
Director Steven Spielberg and the cast of #ReadyPlayerOne at the LA press junket. See it in theaters March 29. Tickets available now: https://t.co/uyuPQXAgmi pic.twitter.com/7zFIkBGQdw

— Ready Player One (@readyplayerone) March 15, 2018
Also, tickets officially went on sale today for Ready Player One, which opens worldwide on March 29th.
Enjoyed this article? Share it!