Watch The Trailer For Chilling FIlm Amulet, Coming July 24th
Amulet is a new demonic possession film from Romola Garai, who both wrote and directed this one. The film stars Carla Juri, Alec Secareanu, Imelda Staunton, and Angeliki Papoulia and will release in theaters and on-demand on July 24th. In the movie, a former soldier is invited into the home of a woman named Magda, who needs help looking after her dying mother. Only not is all as it may seem in the house and the relationship between Magda and the old woman upstairs. You can check out the poster, synopsis, and trailer for Amulet down below.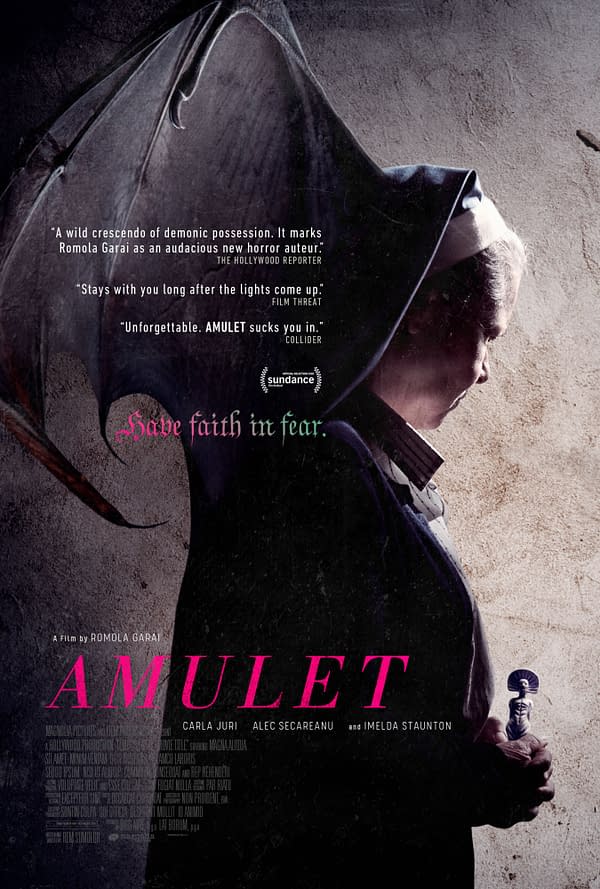 Amulet Trailer & Synopsis
"Following an accident that leaves him homeless in London, former soldier Tomaz is brought to the rotting home of Magda, a lonely woman in desperate need of help as she looks after her dying mother. Though at first resistant, Magda eventually welcomes him into their lives and allows him to help her care for them. But as he worms his way into their routine and begins to fall for Magda, Tomaz starts to notice strange, unexplainable, and ugly phenomena. Something seems very wrong with the mysterious old woman who never leaves the top floor, and Magda may, in fact, be enslaved to do her otherworldly bidding."
There is some messed up stuff happening in that trailer. When all is said and done here, 2020 might end up being one of the best years for indie horror in some time. Amulet looks genuinely frightening in every aspect, from the PTSD all the way to the jump scares from behind the door. Horror is at its best where it ties into real-world issues and twists them into an uncomfortable ball of tension. It looks like Amulet might accomplish that.