To say there's a lot on the line when it comes to Aquaman is a bit of an understatement. While Wonder Woman might have justified the DC Extended Universe existing, they really needed Justice League to stick the landing. No matter what fans of that movie say — and they do exist, and that's fine — there is no arguing that the movie under performed critically and commercially. That is not an opinion or bias; that's fact. Entertainment Weekly spoke to Warner Bros. film chairman Toby Emmerich about Aquaman and was asked how important it is for this movie to work after Justice League.
It's important. It's important that it works. I think everybody really worked very hard to make a really good movie. It's an expensive movie. We believe this movie can work and we're going to do everything we can as a company — distribution, marketing everything — to make sure it's successful around the world.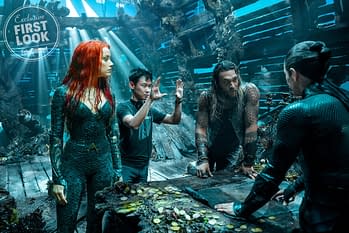 When pushed for how the plans for the DC universe have changed in light of its less-than-stellar commercial and critical reception, Emmerich said that they are focusing on making sure Aquaman works which is the right direction to go.
I want to focus on Aquaman. Aquaman is a bit of a bridge movie yet there is still the connective tissue to the DC movies. But just like how [director Patty Jenkins] brought her own sensibility to Wonder Woman — yet it was very connected [to Justice League] — that movie was very much a Patty Jenkins movie this is very much a James Wan movie.
The footage that people have seen from Aquaman at various conventions have been much different in terms of lighting and tone. Emmerich was asked if that was deliberate as they were trying to move away from the "grim and gritty" tone of the less popular DC movies. Emmerich, instead, said that this is just the Aquaman movie that director James Wan wanted to make.
If you spend time with James and [Aquaman star Jason Momoa], they brought themselves to the party. They very instinctively were who they were when making this movie. And that comes through in the tone of this movie. But I don't think it was a reaction to what had come before. I think it was them being true to themselves. … I'll tell you this: I have two girls, 10 and 14, and they're so quick to tell me what movies are going to bomb — my movies, other people's movies…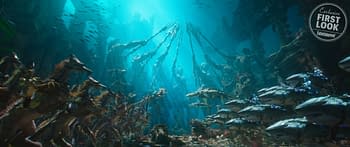 Emmerich went on to say that his kids are usually right on the money when it comes to calling whether or not a movie is going to do well and they are pumped for Aquaman.
They're shockingly right more than I would have thought. Kids are closer to the zeitgeist, everything is a raw nerve ending, they pick up on so many cultural subtleties it constantly blows my mind. I showed them the Aquaman trailer and I'm enthused and excited that they're so excited for Aquaman.
The first trailer for Aquaman is expected to release during the Warner Bros. presentation in Hall H at Comic-Con International. Until then these images look pretty neat and DC could really use another home run. Or even a two base hit.
Summary: Arthur Curry learns that he is the heir to the underwater kingdom of Atlantis, and must step forward to lead his people and to be a hero to the world.
Aquaman will be directed by James Wan and stars Jason Momoa, Amber Heard, Nicole Kidman, Patrick Wilson, and Willem Dafoe. It will be released December 21st.
Enjoyed this article? Share it!