It's become a matter of routine over the past few years for actors to publicly declare their interest in playing a particular superhero character. So routine, that it's almost never newsworthy anymore — and of course, it rarely if ever works. But I kind of love the way that Aubrey Plaza went for it on The Late Show with Stephen Colbert this past Friday as she made it clear just how much she'd like to take on the role of Catwoman. Plaza has become infamous for her no-filter talk show interviews and her scenery-chewing presence in Legion and other roles indicate she'd be a pretty good fit for the role.
And she timed her pitch for it well, I think. After over a year of rumors and uncertainty, director Matt Reeves' The Batman has started to take shape. Most famously, Robert Pattinson has officially been announced in the lead role of the film. Reeves has also indicated that his film will take the character back to his pulp noir detective roots, and will include a rogue's gallery of the character's iconic villains, perhaps including Penguin and Catwoman.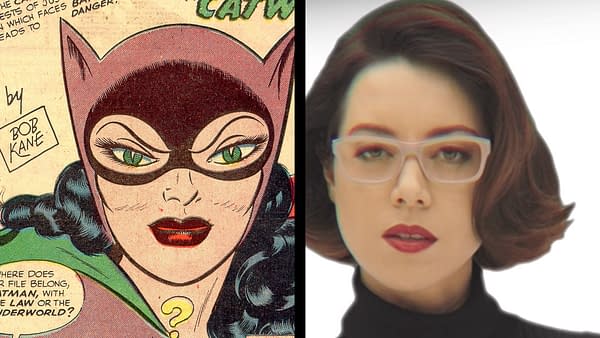 The Batman Returns… Again
There's an interesting little bit of divergence in that combination of elements, as Batman's most famous villains — Joker, Catwoman, Penguin, Two-Face, and so on didn't emerge until after Robin had been introduced to the mythos and the character's exploits had shifted in tone, away from the thoroughly noir era of Detective Comics #27-37. However, Reeves has also indicated that Batman will undergo a transformation in this film:
I'd love this to be one where when we go on that journey of tracking down the criminals and trying to solve a crime, it's going to allow his character to have an arc so that he can go through a transformation.
It's not too difficult to guess why the film has undergone such a careful gestation period in the wake of Ben Affleck's departure from the project. The character has two memorable film benchmarks in modern film history: Timothy Burton helped launch the modern superhero film era with Batman in 1989, while Christopher Nolan's Batman trilogy redefined the character's mythos for a new generation of filmgoers. But the phrase "rogues gallery" applied to a Batman film (or any superhero film, really) does give me some pause. Not too distant in memory are a pair of Batman film entries which between them featured staple villains played by Uma Thurman, Tommy Lee Jones, Arnold Schwarzenegger, and Jim Carrey and still managed to be pretty bad. Too many villains in the kitchen usually spoils the superhero movie recipe.
And of course, in the case of Catwoman, we've got a textbook example of how it can go wrong with an excellent actress and the villain is the star of the show, with Halle Berry's should have been great, but somehow was awful role in the 2004 film Catwoman.
Aubrey Plaza's Catwoman Cred
There have been exceptions to the too-many-villains rule, however. Suicide Squad managed to be a pleasant surprise on the strength of getting the chemistry right, plus Margot Robbie's preternatural star turn. And of course, Uma Thurman, Tommy Lee Jones, and the rest of that 1990s rogue's gallery likely knew little about the comic book source material at that time.
Aubrey Plaza has been in a pair of comic book projects already in Legion and Scott Pilgrim vs The World, and beyond that, it appears she's got the prerequisite rogue's gallery mindset. A few years back she told Conan O'Brien that she slept with a dagger by her side at all times and regularly did practice drills in case she had to use it, and also chose her friends and associates based on having the array of skills necessary to survive in the event of an apocalypse. And apparently, she has also stolen something from the White House.
Best of luck to Aubrey Plaza in her quest to play the role of Catwoman in the upcoming film The Batman. She's got the skills for it for sure, and anybody who puts this kind of effort into it deserves a real audition for the job.
Enjoyed this article? Share it!