Becky debuts this Friday, on both VOD services and at drive-ins around the country, and boy does Kevin James look different in this one. The thriller pic stars Lulu Wilson (Annabelle: Creation), Joel McHale (Community), and Kevin James (The King of Queens). It was initially supposed to debut at this year's festival, but since that was canceled, it will now come to VOD streaming. Becky is directed by Cary Murnion and Jonathan Milott, with a script from Nick Morris, Ruckus Skye, and Lane Skye. Also starring in the film are Amanda Brugel (The Handmaid's Tale) and Robert Maillet (Sherlock Holmes). Check out the trailer below.
Becky Looks Fantastic
"Spunky and rebellious, Becky (Lulu Wilson) is brought to a weekend getaway at a lake house by her father Jeff (Joel McHale) in an effort to try to reconnect. The trip immediately takes a turn for the worse when a group of convicts on the run, led by the merciless Dominick (Kevin James), suddenly invade the lake house." I cannot get over the appearance of Kevin James in this film. I understand now why they have kept it under wraps for so long, as it is actually a little jarring when he is onscreen. He is so cold, dare I say menacing. And how good does Lulu Wilson look here? She is sure to be a breakout star over the next few years, and this could one hundred percent be the role that gets her there. I was optimistic about Becky just reading about it, but after the trailer, I could not be more excited to check it out when it hits streaming VOD on June 5th. Make sure to put this one on your radar, and check out the list below to see if your local drive-in or theater is playing it.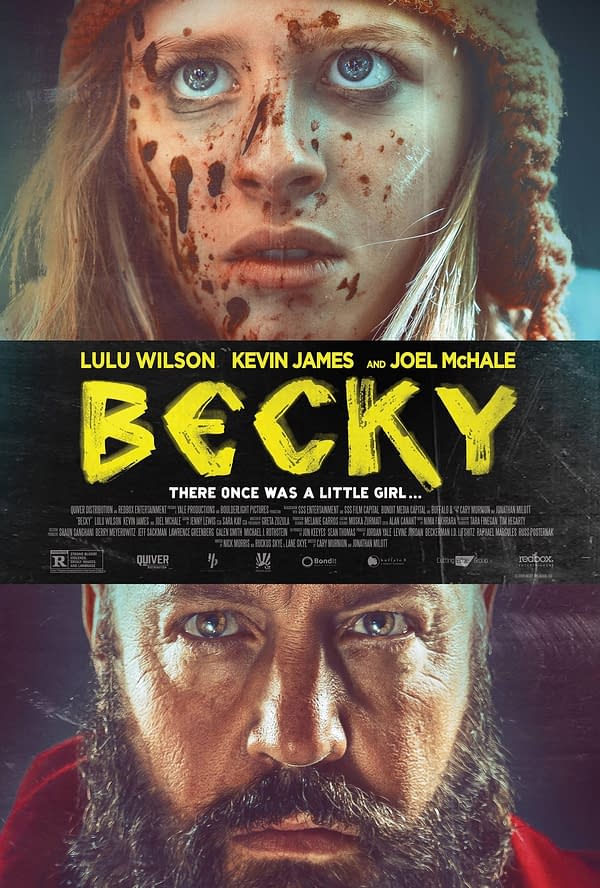 IOWA: Superior 71 Drive-In, Blue Grass Drive-In
INDIANA: Garrett Drive-In, Tri Way 4 Drive-In
KENTUCKY: Regency 8
MASSACHUSETTS: Mendon Twin Drive-In
MINNESOTA: Long Drive-In
NORTH CAROLINA: Hounds Drive-In, Raleigh Road Drive-In, Badin Road Drive-In, Eden Drive-In
NEW HAMPSHIRE: Milford Drive-In 2
NEW JERSEY: Delsea Drive-In
NEW YORK: Transit Drive-In, Silver Lakes Drive-In, Sunset 3 Drive-In, Vintage Drive-In, Delevan Twin Drive-In
OHIO: Mayfield Road Drive-In, Skyway Drive-In, South Drive-In Twin, Tiffin Drive-In, Starview Drive-In, Springmill Drive-In, Magic City Twin Drive-In, Van-Del Drive-In, Dixie Drive-In, Aut-O-Rama Twin Drive-In, Elm Road Triple Drive-In, Field of Dreams Drive-In
OKLAHOMA: Tower Drive-In
PENNSYLVANIA: Garden Drive-In, Circle Drive-In, Comet Twin Drive-In, Kane Family Drive-In, Riverside Drive-In, Silver Drive-In, Skyview Twin Drive-In
SOUTH CAROLINA: Hi-Way 21 Drive-In
TENNESSEE: Stardust Drive-In
WISCONSIN: Stardust Drive-In
Enjoyed this article? Share it!