This is the publicity shot offered up by Channel 4 for the upcoming drama starring Benedict Cumberbatch as Vote Leave Campaign Director Dominic Cummings, about those behind the Brexit campaign in the runup to 2016's referendum, which we hear may now be called Take Control – the slogan of the campaign but also reflective of all the takeover attempts that occurred within the campaign.
Vote Leave was the official "out" campaign during the 2016 referendum and was backed by cabinet ministers including Boris Johnson and Michael Gove.
But touching in with someone closer to the reality of the situation, from this pic alone, there are already complaints…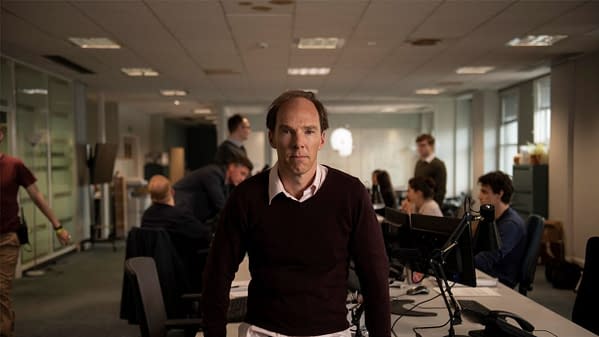 The room is far too big for the campaign offices.
While ironically, there are not enough people there.
There would have been two rows of desks in a smaller space, not one.
The outer walls were indeed all windows but the one inside wall was just wall plus doors. the office was one entire side of the building's floor, the walls just concealed an elevator.
But more importantly, Dominic has his jumper on the right side out here. Possibly the most glaring error of all…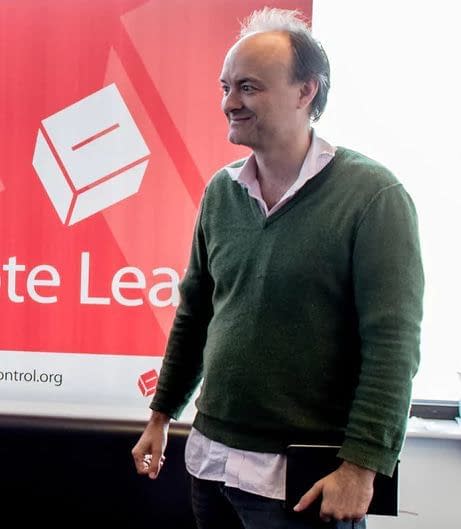 Rory Kinnear plays Craig Oliver, then-Prime Minister David Cameron's Director of Communications. John Heffernan plays Matthew Elliott, political lobbyist and Chief Executive of Vote Leave. Liz White plays Mary Wakefield, a journalist and Dominic Cummings' wife. Kyle Soller plays Zack Massingham, founder of data technology and digital marketing company AggregateIQ. Lee Boardman plays UKIP donor Aaron Bank. Nicholas Day plays Labour supporting businessman John Mills. Richard Goulding plays Boris Johnson. Oliver Maltman plays Michael Gove. And Paul Ryan plays Nigel Farage.
The two-hour drama produced by Tessa Ross and Juliette Howell's House Productions for Channel 4 has been written by political dramatist James Graham and directed by Toby Haynes. Channel 4 said it would "explore the myriad tactics employed to swing one of the most surprising referendum results in living memory" and will "explore the anatomy of a modern data-driven election campaign, and the divisive figures driving it from the shadows – not to be an analysis of who was right and who was wrong, but rather is the story of how it happened, and why."
Graham wrote Coalition, a 2015 Channel 4 docudrama about the aftermath of the 2010 British General Election, as well as political stage plays This House, Labour of Love and Privacy.
I saw Labour Of Love which starred Benedict's Sherlock partner Martin Freeman alongside Tamsin Grieg and Susan Wokoma earlier this year, it was a triumph, Very much looking forward to this one too. However accurate it may be…
Enjoyed this article? Share it!