[rwp-review-recap id="0"]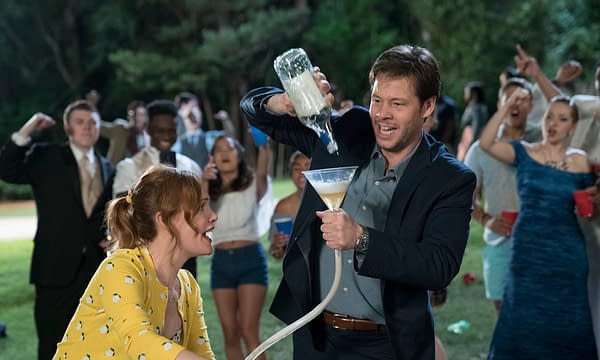 With the vast wasteland of horrid comedies out there, I did not go into Blockers expecting much more than some frat-level humor, some piss jokes, and no real script to speak of beyond a checklist of contrived scenes. Well I have to admit to being more than pleasantly surprised by the thoughtfulness and sincerity that comes along with the script by relative newcomers Jim and Brian Kehoe. The film was directed by first-timer Kay Cannon, who had previously been the writer on the Pitch Perfect films, in which the first one showed similar freshness to what we find here in Blockers.
Leslie Mann, Ike Barinholtz, and John Cena play three midlife parents whose daughters have been besties since their first days of school. Now it's senior year and Katheryn Newton, Geraldine Viswanathan, and Gideon Adlon have wound up making a pact to all lose their virginities during prom night. Their parents find out and in typical parental fashion, lose their minds over the prospect and start out on a mission to c*ck-block (get it, they're the titular Blockers) their kids attempts at their first times.
In less deft hands this would be a typical teen sex romp, but that's not really what this. It's a lot more humorous (but still feeling sincere) soul searching around letting kids grow up to be young adults, and for those same kids to really think about what they're getting into. It also explores various possible outcomes of their choices. One parent jumps to the conclusion that their daughter is running off to college to chase after her boyfriend by attending the same school, when the daughter turns around and points out that it wasn't her that was following him to school, but the other way around.
This is another solid strong women piece wrapped in the clothing of a college-age sex film. It's like expecting American Pie but getting American Beauty. Ok, granted this film is far more a comedy than American Beauty, but it's every bit of the same level of surprise as to it's sincerity and messages.
There's definitely two tracks going on here, the parent's storyline, and the kid's; both have their own sets of character development arcs, and they're not highly inter-related until the very end. The parents are dealing with the moving out of their children towards college, and that making them feeling their ages and the sense of "so what do I do now?" and the kids growth of now that boundaries are  falling away, what should they explore first.
It's funny, there's some crass moments to be sure, but in the end a solid and fun film.
[rwp-review-ratings id="0"]
[rwp-review-form id="0"]
Enjoyed this article? Share it!