'Candyman': Helen Lyle is Returning For New Film, Will Virginia Madsen?
Candyman hits theaters in June, and his eternal love will join him. Cassie Kramer has been cast as Helen Lyle, played by Virginia Madsen in the original 1992 film. The spiritual sequel is produced and co-written by Jordan Peele, and directed by Nia DaCosta. There is no word on if Madsen will make a cameo or anything. One would hope so though. Aquaman's Yahya Abdul-Mateen II will star.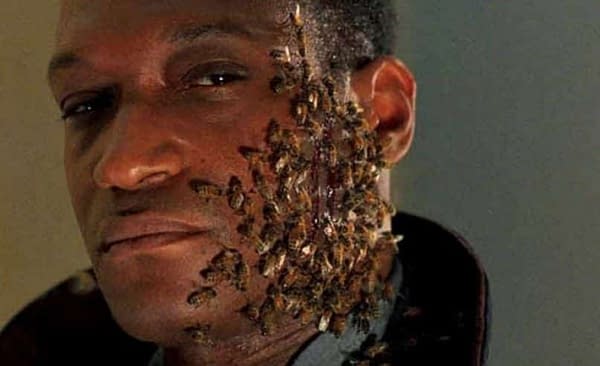 MGM Group President Jordan Glickman had this to say about the announcement:
"We cannot wait for the world to see what the mind blowing combination of Jordan, Win and Nia bring to the legend of Candyman. They have created a story that will not only pay reverence to Clive Barker's haunting and brilliant source material but is also thoroughly modern and will bring in a whole new generation of fans," said Glickman.
Peele seems pretty giddy to get this one off the ground:
"The original was a landmark film for black representation in the horror genre. Alongside Night of the Living Dead, Candyman was a major inspiration for me as filmmaker — and to have a bold new talent like Nia at the helm of this project is truly exciting. We are honored to bring the next chapter in the Candyman canon to life and eager to provide new audiences with an entry point to Clive Barker's legend," said Peele.
This will be the forth Candyman film, following 1995's Candyman: Farewell to the Flesh and 1999's Candyman 3: Day of the Dead, both starring Todd. It is a little surprising not to see this one set up through Blumhouse Productions and Universal after the huge success Peele had with them and Get Out and Us the last couple years. Fans are getting more Candyman though, from fresh eyes and a female director though, and that is all that matters.
First seen on Bloody Disgusting