'Captain Marvel' Just Screened in Los Angeles, Early Reactions Hitting
Marvel Studios first female-fronted solo superhero film Captain Marvel just had a screening in Los Angeles. With the official social media embargo lifting post-screening, early reactions are popping up all over Twitter and Facebook.
Obviously the spoiler embargo won't lift til much later, and the official review embargo for press is still in place til March 5th. So, unless you haven't seen any of the trailers or press materials, these reactions shouldn't be true spoilers. Our friends over at Captain Marvel News on Twitter are doing a bang-up-job of retweeting the reaction posts.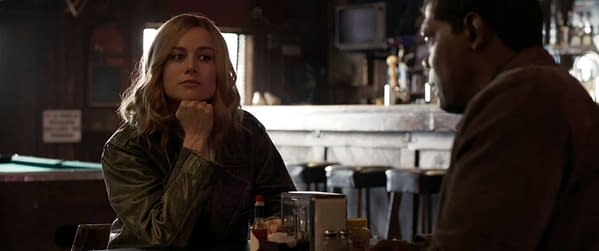 The Editor-In-Chief of Fandango Erik Davis said:
Love the cat, love Sam Jackson, LOVE Ben Mendelsohn, but honestly I'm calling Lashana Lynch as MVP. She brings an emotional weight to the film that is needed and transforms the entire movie upon arrival. Definitely need to see more of her#CaptainMarvel pic.twitter.com/QeEzUBM8O1

— Erik Davis (@ErikDavis) February 20, 2019
Collider EiC Steven Weintraub said:
#CaptainMarvel is a welcome addition to the #MCU. The movie is really well done with some great moments. #benmendelsohn steals almost every scene he's in. @brielarson literally shines in the role. So ready for #AvengersEndGame pic.twitter.com/GET0socRjl

— Steven Weintraub (@colliderfrosty) February 20, 2019
Politico author Bill Kuchman said:
Love seeing the rave reactions to #CaptainMarvel. This is going to be a rough month for the antifans already crying on Rotten Tomatoes. pic.twitter.com/n1HkrNpFT5

— Bill Kuchman (@billkuchman) February 20, 2019
Reporter Anna Klassen (Buzzfeed, Newsweek, Bustle) said:
#CaptainMarvel⁠ ⁠ is very fun. And I am thrilled to announce Brie Larson wears my EXACT SAME NINE INCH NAILS tee for more than half the film. Seriously. I've never seen anyone else with this shirt.

— Anna Klassen (@AnnaJKlassen) February 20, 2019
There's an earnestness to #CaptainMarvel that feels different than other MCU films. I got chills watching Carol Danvers get back up over & over & over again.

— Anna Klassen (@AnnaJKlassen) February 20, 2019
#CaptainMarvel opens with a very touching Stan Lee tribute that Marvel fans will love. pic.twitter.com/yXDScRwiwW

— Anna Klassen (@AnnaJKlassen) February 20, 2019
Lots of fun Easter eggs in #CaptainMarvel that link it to the history and other films in the MCU. Watch closely.

— Anna Klassen (@AnnaJKlassen) February 20, 2019
Den of Geek staff editor Kayti Burt said:
Some initial #CaptainMarvel reactions:

1. Cat people will love this movie.
2. Several truly magnificent music moments for this 90s kid.
3. Carol's hero moment was very cathartic/true to the female experience, imho.
4. The MCU feels more complete now that Carol is in it. ♥️

— Kayti Burt (@kaytiburt) February 20, 2019
Devan Coggan of Entertainment Weekly said:
#CaptainMarvel is pure joy. I cannot wait for the generation of little girls who will grow up with Carol Danvers as a hero.

— Devan Coggan (@devancoggan) February 20, 2019
Deputy Entertainment Editor at Mashable Angie J. Han had probably one of the best reactions:
#CaptainMarvel: Well, Thanos is fucked.

— Angie J. Han (@ajhan) February 20, 2019
And, Brandon Davis of ComicBook.com answered a much-asked Marvel film question about a post-credits scene:
Oh, hell yes. #CaptainMarvel https://t.co/gknytcIEIk

— BD (@BrandonDavisBD) February 20, 2019
Hopefully, all this positive buzz is indicative of a good film, and those early Captain Marvel review bombers will be proven wrong. Again. Like they were for Black Panther.
Anna Boden (first female director for Marvel Studios, only took 21 films) and Ryan Fleck are directing from a script they wrote with Liz Flahive, Carly Mensch, Meg LeFauve, Nicole Perlman, and Geneva Robertson-Dworet.
Captain Marvel stars Oscar winner Brie Larson as Carol Danvers, Samuel L. Jackson as Nick Fury, Jude Law as the commander of Starforce (who may or may not have two names), Clark Gregg as Phil Coulson, Lee Pace returning as Ronan the Accuser, Djimon Hounsou as Korath the Pursuer, Gemma Chan as Minn-Erva, Ben Mendelsohn as Skull Commander Talos, Lashana Lynch as Maria Rambeau, Algenis Perez Soto, McKenna Grace, and Annette Bening in as-yet-undisclosed roles.
Captain Marvel is set to hit theaters on March 8th 2019 (International Women's Day), and tickets are on sale now.