'Close Encounters' Wows at San Francisco Symphony [Review]
Being fortunate enough to live in San Francisco means that there's no end of theaters showing off the latest in video and audio technology. With Dolby's headquarters here their flagship theater is amazing, so what could sound better? How about watching a classic film while the score is performed live by a world-class Symphony. In the latest of the San Francisco Symphony's films in concert series, conductor Joshua Gersen leads the combined symphony and chorus through the full John Williams score for Close Encounters of the Third Kind.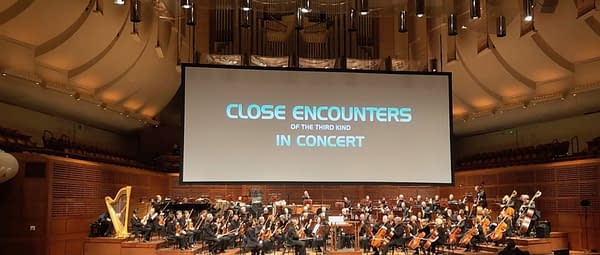 The digital projection screen shows a special version of the film without a score, and you get the combined experience of watching the film while seeing it scored at the same time. The vocal channel is a bit lower than normal so the music comes through all the stronger, and the subtitles are turned on so nothing gets lost. If anything you have to choose which to watch, the musicians playing away or the moments on screen.
The film holds up marvelously, and it was clear by the audience's reactions that many in attendance either hadn't seen it before, or had long since forgotten the storyline. Yes, to me it's strange to think that anyone wouldn't know the film by heart, but it made the experience all the more refreshing and reminded me of the feelings when I'd seen it for the first time when I was seven on it's original theatrical release.
Performed with one intermission, the experience lasts two hours and fifty minutes. In an era where premium audio is becoming more of a norm, when you have the opportunity to hear it live, take it. Be it Williams, Zimmer, Horner, Poledouris, or any of the other contemporary masters, it's worth the trip at least once.
Close Encounters of the Third Kind at the San Francisco Symphony will be performed once more, tonight at 8pm, and tickets are available via their website and at the Davies Symphony Hall box office.