"Community" Cast Open to Movie, Dan Harmon on Fence
Most of the Community cast reunited at the Vulture Festival. The panel for the NBC meta-comedy that ran from 2009-2015 featured creator Dan Harmon, EP/writer Chris McKenna, and seven of the nine cast members: Joel McHale, Allison Brie, Gillian Jacobs, Danny Pudi, Jim Rash, Yvette Nicole Brown, and Ken Jeong. Donald Glover and Chevy Chase did not participate.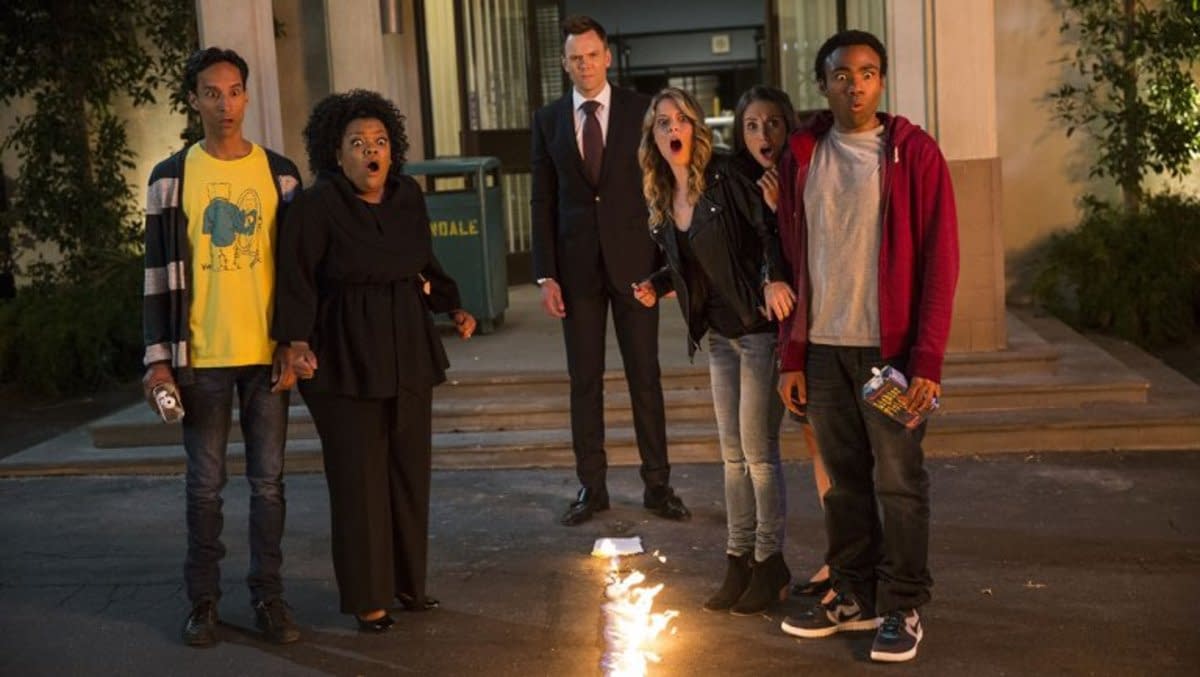 Harmon, McKenna and the cast answered questions about their favorite episodes and inside jokes. When asked about a possible film, Harmon wasn't so sure calling the feature "a weird Ouija board thing."
"Who is supposed to say, 'everyone do to this'? That's what I've always said. I don't know how it starts."
Brie responded, "I think it starts with you, Dan" before Harmon continued.
"Yeah, then I write it and half the people are like, 'meh, I don't want to do it'."
Will a "Community" Film Happen?
Conferring with one another, the cast approved the idea of doing the film. Brown reminisced about the time she had working on the show and entertained the idea of a reunion film.
"I just would love to have everybody back again. It was a lot of long hours, but we had a lot of fun. It's a family, so that would be fun."
Harmon, who's enjoyed his success from Rick and Morty on Adult Swim, recollected his experience with NBC following his firing and rehiring during Community's run.
"Why am I back — what kind of back-alley deal did we do? I don't know why I got my job back."
Jacobs talked about how the success of the show shaped their careers and recognizing its impact on the audience.
"At a certain point when the fans started organizing their own conventions, I think I realized there was no guarantee that anything I did going forward was going to have this kind of impact. That's separate from success…I recognized at the time there was no guarantee that there was anything that I would do that would mean as much to people…this has to be #1."
The Changing Landscape
Harmon explained how TV changed with the advent of streaming and the cultural impact of Community. When NBC cancelled the series following season five, Yahoo Screen picked up the sixth and final season to stream online.
"This is absolutely the thing… of which I am most proud, forever and ever. Network TV is not necessarily dead, but it's turned into a different thing with [all the] streaming platforms now. We were there with Tina Fey and Amy Poehler, and we were there at the end of this crazy era — the end of must-see TV."
Harmon referenced Fey's show 30 Rock and Poehler's Parks and Recreation. Do you think Community gets a feature film sendoff? Sony's currently shopping the streaming rights of the series.