Daniel Bryan finally made his long-anticipated return to the ring last night, in a manner of speaking. Bryan was serving as the special referee in a dark match between AJ Styles, Randy Orton, and Shinsuke Nakamura against Kevin Owens, Jinder Mahal, and Sami Zayn. But during the match, Bryan decided to get physical, running the ropes with Zayn in a criss cross spot that ended with the two getting tangled together. Bryan didn't take any bumps in the segment, but on the other hand, he didn't get injured from running the ropes either, which has got to count for something.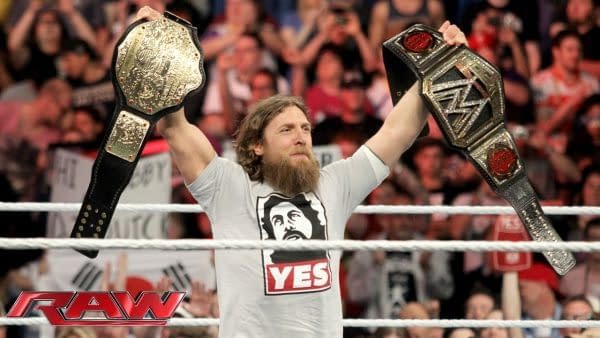 Bryan has long expressed a desire to get back to wrestling, even saying that he'll do it somewhere other than WWE if WWE refuses to clear him. Bryan retired from in-ring competition in 2016 after medical tests revealed he had suffered a brain lesion as a result of concussions incurred from taking bumps while performing. Bryan had previously gotten clearance from several doctors, but WWE doctors refused to clear him to wrestle. But in recent weeks, it's been looking like WWE could be setting up a match between Bryan and Shane McMahon for WrestleMania.
You can watch the spot with Bryan and Zayn in the video posted by a fan to Twitter and found by 411 Wrestling below.
https://twitter.com/prowrestlingHT/status/945922411085656064
Enjoyed this article? Share it!