Daniel Radcliffe Filming New Harry Potter Scenes in London With JK Rowling?!
British gossip mailing list Popbitch, a long-time inspiration for a lot of my work, had quite the doozy this week. No one else seems to have picked it up, so here comes Bleeding Cool to save the day. Or some such. They report that a certain Daniel Radcliffe has been seen out and about in London's Hatton Gardens, being perfectly pleasant but refusing selfies
Daniel Radcliffe has been out and about in Hatton Garden this week, being extremely pleasant to the people who have stopped him but politely refusing selfies as he's "filming, mate" and doesn't want pictures getting online.
Which is fair enough and shouldn't be anything out of the ordinary. And someone found him more willing at the train station to snap a quick picture.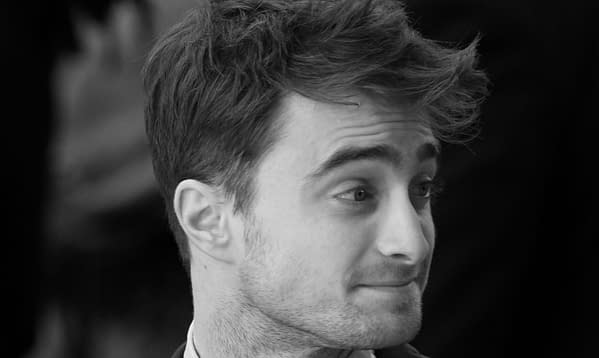 Miracle Workers has finished, Escape from Pretoria and Guns Akimbo are both in post-production, his stage show doesn't start yet, what could Daniel be filming? Because Popbitch adds a little twist.
Interestingly, along with a number of film crew vans, someone swears they also saw JK Rowling on the same street, sat in a stationary black Mercedes, having a chat with people who looked like they were involved in setting up some test shots.
Could Fabulous Beasts 3 be getting a coda? A flash forward to the future? Production was meant to be starting soon but had been pushed back… is this something else entirely?
Either way, Daniel Radcliffe is filming in London today as caught by some fans via social media.