Disney and Sony Shift More Marvel Release Dates
For a little while there it looked like the release date shifting over at Disney was more or less done. Earlier this month, Disney announced a bunch of new release dates and how they were going to deal with all of their Marvel movies. It appeared that they were going for the easier route, which was to move everything down a release date. Black Widow took Eternals release date, Eternals took Shang-Chi's release date, and so on all the way down to the summer of 2022. After they delayed Soul to the end of the year, it almost looked like the major release date changes for Disney, at least on the movie side, were over. It turns out that very much isn't the case.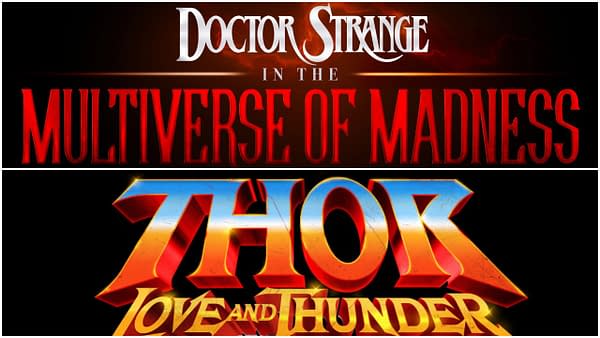 According to Deadline, it appears that Marvel and Disney have shifted their release dates yet again and even got Sony Pictures involved this time. Doctor Strange in the Multiverse of Madness is shifting back another six months from November 5, 2021, to March 25, 2022. Deadline is currently calling it a Sam Rami directed film so we can guess that is more or less confirmed at this point. That in no way means that the November release date is going to stay open since Sony Pictures stepped in and moved the Tom Holland starring third Spider-Man movie from July 16, 2021, to that November release date. That wasn't the only Marvel movie to get shifted around in 2022. The report also says that Thor: Love and Thunder has moved up a week from February 18, 2022, to February 11, 2022.
2022 Now Has Four Dated Marvel Movies
2022 is looking like it's going to be a packed year for Marvel movies. On top of Doctor Strange in the Multiverse of Madness and Thor: Love and Thunder, we also have Black Panther 2 on May 8, 2022, and Captain Marvel 2 on July 8, 2022. That's four Marvel movies before the summer is even over, and we have to wonder if they are going to throw another one in at the end of the year. Now, granted, it has been years since Marvel has only released one movie a year, but 2020 isn't exactly a typical year. Two Marvel movies in a little over a month also seems like an excellent way to kill long term box office returns on the first movie, but we'll have to see if any more dates shift.
There were a couple of other untitled movies that got shifted around:
UNTITLED DISNEY LIVE ACTION (Disney) previously dated on 3/25/22 is removed from schedule

UNTITLED DISNEY LIVE ACTION (Disney) is now dated on 4/8/22

UNTITLED 20TH CENTURY (20th) previously dated on 4/8/22 is removed from schedule

UNTITLED DISNEY EVENT FILM (Disney) is now dated on 7/9/21