"Hamilton": Lin-Manuel Miranda "Flexible" With Disney Censors
When it comes to the hottest Broadway production in our generation, Hamilton is a no-brainer in the discussion. As one of the most in-demand shows, only a matter of time before the discussion turned to a theatrical release. On February 3rd, Disney announced they will bring the famed show to the big screen with the original cast as a live capture.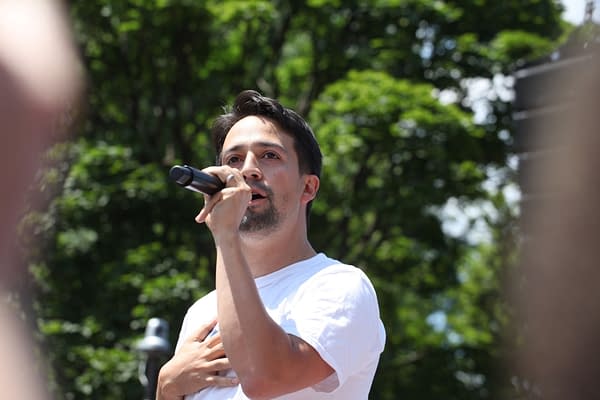 Lin-Manuel Miranda's "Hamilton" Plans for Disney
The problem is the multi-ethnic take one of the country's Founding Fathers ventures more into the R-Rating with its use of language. Disney typically is firm at PG-13. Kyle Buchanan of the New York Times tweeted his conversation to Miranda about what changes he'll have to make to the show.
"So I asked Lin-Manuel Miranda about it on the Oscars red carpet. 'I think we'll figure it out when we get there,' he said — the film is due out in Oct 2021 — adding, 'but we're not going to cut any sections of the show.' If we have to mute a word here or there to reach the largest audience possible, I'm OK with that, because your kids already have the original language memorized. I don't think we're depriving anyone of anything if we mute an f-bomb here or there to make our rating"
Possible Shell Studios
Disney has plenty of studios it owns it can delegate to it doesn't have to "tarnish" its more family-friendly reputation. Among the studios they distribute under include Touchstone Pictures, Searchlight Pictures, and 20th Century Studios to name a few.
What do you think happens? Does Miranda change his show for the live performance capture? Does Disney attached their name and skirt their more family-friendly image for once and allow f-bombs? Will The Mouse delegate to one of their many owned studios?
What version of Hamilton will we see when it comes to theaters on October 15th, 2021?