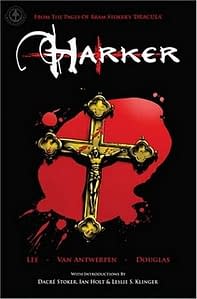 I understand from the San Diego Comic Con bars that Harker, the Markosia-published graphic novel sequel to Bram Stoker's Dracula, and the only such sequel that has received approval from members of the Stoker family, has been optioned by Hollywood.
It's not a major studio, and we are talking five rather than six figures for the option. Though, naturally, a budget of millions.
Harker is written by Tony Lee and drawn by Neil Van Antwerpen and Peter-David Douglas, with an introduction by Dacre Stoker.
Expect confirmation later this show.
UPDATE: Blimey, I didn't expect confirmation that fast. Markosia publisher Harry Markos has been in touch. he just told me;
Although it's something that we weren't announcing at San Diego, we can confirm that the original graphic novel 'From The Pages Of Bram Stoker's 'Dracula': Harker' by Tony Lee, Neil Van Antwerpen and Peter-David Douglas has been optioned for a substantial five-figure sum by acclaimed Canadian independent filmmaker and producer Alexander Galant.'
Enjoyed this article? Share it!