Sometimes there are hard decisions when you're editing a movie, and things get cut. Sometimes they are scenes, but sometimes they are entire characters. The Predator is the latest to movie to cut a major actor from its cast in the pursuit of a tighter edit. According to Slash Film, Edward James Olmos has been cut from the movie because the production is trying to shave off up to 45 minutes from the run time.
"I'm not in the show though," Olmos said, "It was too long so my character, they had to take me out. They were like half an hour, 3/4 of an hour too long. So I understand why."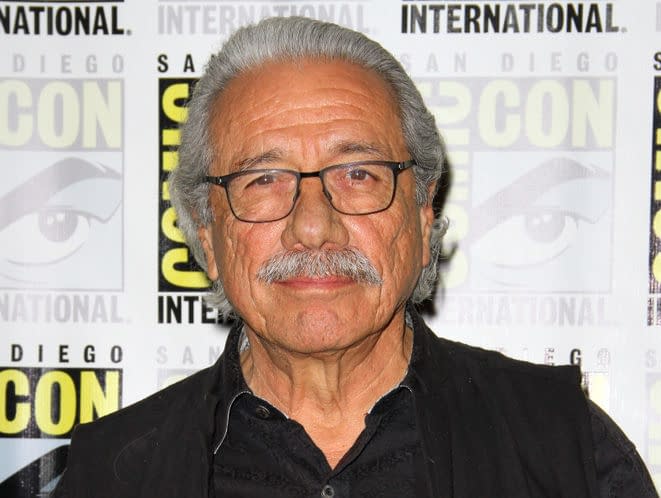 Olmos isn't new to Hollywood, so when he got the call saying he'd been cut, he didn't take it personally because he knows that these things just happen.
Thankfully, Olmos understood, "It was gracious of them to call me and tell me, 'Hey, we really feel bad,' you know?"
Since there is a decent amount of money to be made in releasing extended cuts of movie on home media, there is a good chance we'll see Olmos's scenes someday.
Summary: From the outer reaches of space to the small-town streets of suburbia, the hunt comes home in Shane Black's explosive reinvention of the Predator series. Now, the universe's most lethal hunters are stronger, smarter and deadlier than ever before, having genetically upgraded themselves with DNA from other species. When a young boy accidentally triggers their return to Earth, only a ragtag crew of ex-soldiers and a disgruntled science teacher can prevent the end of the human race.
The Predator, directed by Shane Black, stars Boyd Holbrook, Trevante Rhodes, Jacob Tremblay, Keegan-Michael Key, Olivia Munn, Sterling K. Brown, Alfie Allen, Thomas Jane, Augusto Aguilera, Jake Busey, and Yvonne Strahovski. It will be released on September 14th.
Enjoyed this article? Share it!