Exclusive Clip of Sci-Fi Thriller 'Occupation': The Fight Continues
Occupation is the latest upcoming outing from Australian writer/director Luke Sparke (Red Billabong). If you think Red Dawn, but with aliens rather than Soviets and Cubans as the invaders, you won't be far off the mark.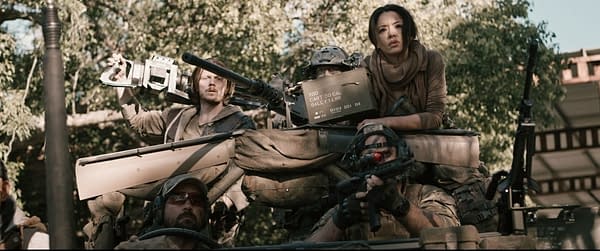 A group of town residents band together to fight back against an alien invasion. Turning to hit-and-run tactics rather than direct frontal assaults, they try to keep one step ahead of the invaders.
Occupation stars Dan Ewing (Home & Away), Temuera Morrison (Star Wars Episodes I and II), Stephanie Jacobsen (Battlestar Galactica: Razor), and Rhiannon Fish (The 100).
Made on a medium budget (reported to be in the $6 million range), the effects and production quality are solid for the range and reflect Sparke's prior experience as in art and costume departments for a number of war-based films, including Steven Spielberg's The Pacific and Sisters of War. The film's summary notes that:
The aliens have been watching Earth for centuries; now they have arrived to seize control of our planet.
Now the fight is on, and the advancing army has pinned down several of the townsfolk. You can watch some of the action in an exclusive clip right here:
The film will release on July 20th in select theaters as well as VOD and Digital HD.
You can also check out the full trailer below: