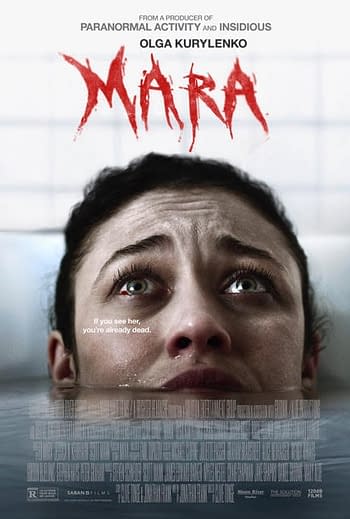 Bleeding Cool has received an exclusive clip from Mara, a new thriller about a woman trying to learn the truth about a creature that attacks you in your sleep — without becoming its next victim.
From a producer of Paranormal Activity and Insidious comes this shock-filled descent into fear. After a man is seemingly strangled in his bed, criminal psychologist Kate Fuller (Olga Kurylenko) interviews the sole witness, the victim's eight-year-old daughter, Sophie. When asked to identify the killer, Sophie says, "Mara." As Kate digs into the case, she unearths a community of people who claim to be tormented by a shadowy menace, a centuries-old demon who kills her victims as they sleep.
Mara stars Olga Kurylenko (The Death of Stalin, Oblivion, Vampire Academy), Javier Botet (It, Slender Man, Insidious: The Last Key) and Mitch Eakins (Glory Road, Evil Bong). The film is the feature debut of director Clive Tonge and was written by Jonathan Frank (The Tournament).
See the clip:
Check out the trailer:
Enjoyed this article? Share it!