Fifty Thoughts About Doctor Who: The Day Of The Doctor (UPDATE)
By Rich Johnston, with contributions from Doctor Hannah Means-Shannon (this time I'm using her title), Brendon Connelly, Matt Booker, Tom Huxley and Luke Foster.
Here we go. 1. MATT SMITH, THE NEXT CHAPTER
This was very much the next chapter in the ongoing Eleventh Doctor story with the other Doctors taking guest roles. It didn't have to be this way, but I'm certainly happy it was. For all the hopping backwards and forwards in time, the emotional arc is still linear, and this was a great extension of Eleven's journey.
2. MULTIPLE ORGASMS
We have had multiple Doctor episodes before. That was the first to use the time displacement to advance the plot repeatedly and significantly. The closest you had was Six getting a bit cannibalistic in The Two Doctors. Those sonic screwdrivers have certainly been busy. But we're getting ahead of ourselves. Wibbly wobbly.
3. SONTARVISION
So what did UK Cinema goers see? A Doctor Who Character Options toy trailer. A 2D trailer for The Hobbit – missed a trick there. A normal trailer for Peabody, then the Doctor Who trailer for Anchorman 2.
Then Dan Starkey appeared as Strax of the Sontarans to teach cinema etiquette, with his clone brothers. The camera pans back to 2-3 rows of Sontarans sat in a darkened cinema facing the screen.
He tells us to sit and be quiet and not to talk or we will be harmed, then walks to the right and shows a puny human strapped up like Hannibal Lecter with a gag around their face as if they had talked too much
Then walks over to another restrained prisoner who he informs us had used his communication device to talk to his commanding officer Fury One. But the prisoner says it was his girlfriend Fiona.
Then over to another and he tells us we are not to record the special event int he cinema and camera pans down to the prisoners hand which has a battered mobile phone in
The one tradition Sontarans do condone at the cinema is the consumption of this amazing popped corn creatures who have feelings. But you humans heat them up and explode these beings and consume them. Camera closes tightly on his mouth as he puts a piece of popcorn in and you hear is squeeing and crying as he munches on it…
4. BACK TO WHITE
They also got a bit of Matt Smith talking to camera with a white background. It went a little like this. Sadly, Ryan Gosling was cut.
5. A CRACKING BIT OF TOTTER We opened with the original titles and a remake of the very first shot from the first episode. And, yes, as everyone will have noticed, Clara has moved from being a governor to a teacher, and teaching at the same school that Ian and Barbara taught at fifty years ago – and it seems Ian is now Chairman of the Governors. The Headmaster is Anthony Coburn, who write An Unearthly Child, the first Doctor Who story. Also note an impromptu repair job on the school fence from a nearby Totters Lane junk yard – now itself junked. The time on the clock is 5.15pm, the time that the first episode of Doctor Who aired. The bike registration plate is WP62 LWT – London Weekend Television in 1962? I'm missing something about that…
(MORNING UPDATE: But it's W Coburn, not A or T. And Wendy Coburn was a fellow pupil alongside Susan at the school. Could it be her instead?) 6. MARCUS AND THE DOCTOR
And a lesson on Marcus Aurelius, the last of the five good Roman emperors and whose philosophy described how to find and preserve equanimity in the midst of conflict by following nature as a source of guidance and inspiration. Handy that.
7. MARCUS AND CLARA
Clara is awfully important in altering the Doctor's, and Gallifrey's history, but then again, she has existed at all points in time and is fairly special in that way. The episode opens with her teaching Marcus Aurelius' quote, "Waste no time arguing about what a good man should be. Be one". This, of course, is what happens with the three Doctors arguing about the nature and outcome of their action in personal terms, and once they agree to all do it together, they are capable of agreeing not to do it all together.
But Clara's instrumental. She's the outside observer who can help them get outside their own heads enough to see their predicament and consider their own psychologies. She convinces the 11th and 12th Doctor to help the War Doctor in one way or another, and she stops them from destroying Gallifrey long enough for their reconsideration of the issue. Why? Is she just a convenient foil to their decision-making? Well, on one level she suggests the improving role of humanity on the Doctor far, far from a human context in this case. You might argue that humanity saved Gallifrey, or perhaps the Doctor's acquired humanity gained over centuries. Maybe that's the real problem his mind's been working on through 11 regenerations, how to humanize himself to the point of empathy and right decision making based on it.
8. MOTORBIKIN' Reference to the Doctor Who TV Movie, in which a police motorbike rides in and then rides out again. Also, it's really cool. As is Clara's door closing finger click – now she can do what River once inspired the Doctor to try. Of course, in this case, the Doctor rides out on horseback in a different century and with a different Doctor. Oh and a queen. And the horse is a Zygon. Damn, they're good at shape shifting.
9. IT'S GOOD TO BE OSGOOD
Osgood is Kathryn's daughter. So the long scarf got passed down from Lethbridge-Stewart to Lethbridge-Stewart to Lethbridge-Stewart. I hope some museum curator doesn't demand it back. And we have Cyberravens in the Tower Of London, fed by Malcolm. Or is that Malcolme? As in Malcolme Hulke, writer of many classic UNIT stories? I rather think it might be.
But the grandaughter's surname is Osgood (not "Yes"), the same name as a UNIT technician in the Daemons. Is this her father and she has his surname? I guess the Lethbridge Stewarts like to keep it in the family.
(MORNING UPDATE: Except I'm wrong on two out of three counts. "Mum, mum" was actually "Ma'am, Ma'am." She's an Osgood, but not a Stewart. And the Malcolm is Malcolm Taylor also from previous UNIT stories.)
10. I CAN SEE THE PUB FROM HERE The Doctor hanging out of the TARDIS flying over London, through a variety of monuments seems a direct take on the opening scene from The Eleventh Hour. He doesn't quite come so close to losing whatever genitalia Time Lords have inside their breeches this time. Mind you last time, in the throes of regeneration, he's probably have grown them back.
11. GETTING A REALLY GOOD 3D PICTURE No More, Gallifrey Falls, a 3D oil painting, probably even more impressive in the cinema. And a reference to Nightmare Of Eden perhaps, The Fourth Doctor story where scientists captured bits of planets like this. Naturally the monsters got out.
12. WAR, WHAT IS IT GOOD FOR
Steven Moffat always said the Time War was better in our imagination. In this case we had a really epic battle, from above and below, Daleks Vs Time Lords. But I wanted to see people having their lives erased from existence, alternate versions of lives replacing the originals, civilisations never existing or emerging in far more destructive fashions. Instead we got… a standard battle, admittedly one portrayed in such splendour and terror. But maybe I got what I wanted in a different way.
Also, is this Dalek destruction scene the one that a previous version Eleven popped by to extract details of his death from? Would that have been possible?
13. NO MORE NEVERMORE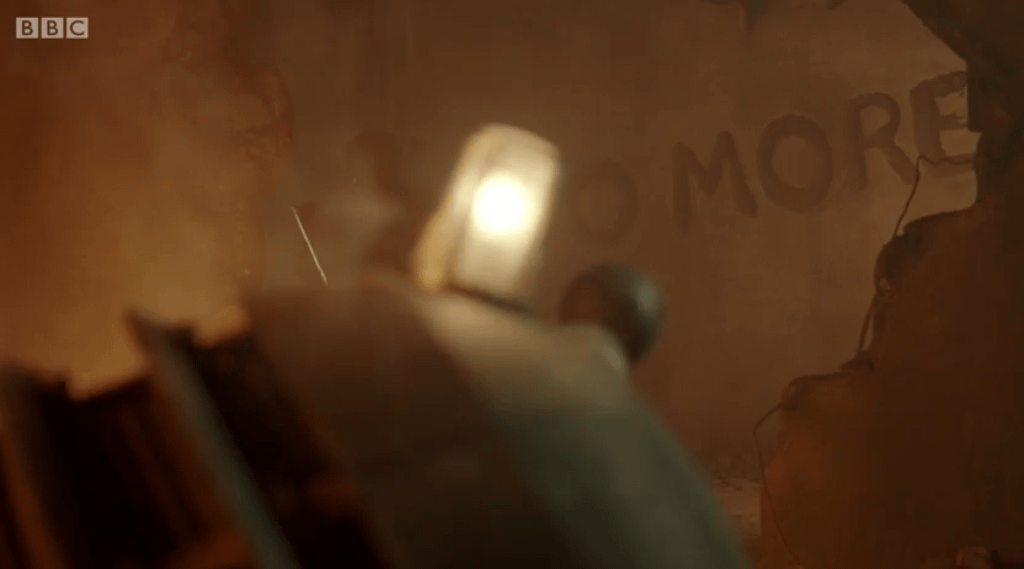 "No More" … it's a bit Edgar Allen Poe isn't it? Nevermore? An emblem of loss and regret and something that can't be changed. They rewrite the phrase to form a complete sentence that is a drastic reversal from regret/fatalism to triumphalism.
14. LIVE IN THE MOMENT
A weapon with a conscience, that's a Douglas Adams idea right from Life The Universe And Everything. Which once upon a time was an idea for a Tom Baker Doctor Who movie called Doctor Who And The Krikketmen. 15. HE'S NOT THE MESSIAH, HE'S A VERY NAUGHTY WAR DOCTOR
Footprints in the sand.. messianic imagery in the special also connects to relevant literary references like W.B. Yeat's "The Second Coming", as in "What rough beast, his hour come round at last, Slouches towards Bethlehem to be born?" This is particularly relevant as the Doctor takes "the box" to the ruined house at the beginning of the episode.
16. COMETH THE SANDMAN
Regarding Sand. There are two emphatic appearances of sand in the special. The first, when the War Doctor is walking toward the ruined house with "the box" and we see his footprints in sand. The second is in the National Gallery when Clara walks across footsteps in the sand. A relevant literary reference could be Percy Bysshe Shelley's "Ozymandias", as in:
"Near them, on the sand,
Half sunk, a shattered visage lies, whose frown,
And wrinkled lip, and sneer of cold command,
Tell that its sculptor well those passions read
Which yet survive, stamped on these lifeless things,
The hand that mocked them and the heart that fed:
And on the pedestal these words appear:
"My name is Ozymandias, king of kings:
Look on my works, ye Mighty, and despair!"
Nothing beside remains. Round the decay
Of that colossal wreck, boundless and bare
The lone and level sands stretch far away".
Both the messianic imagery and the sand imagery reinforce the ambiguity of the Doctor as a potential antichrist alongside his potential savior role. They are neatly encapsulated and tied together by the freezing in time of Gallifrey. Essentially, he is both at the same time, like Schroedinger's cat. Just don't open that box, or in this case, that moment. He can be both. But for how long?
Sand is a universal symbol of destruction caused by the passage of time. And the Doctor is time and war as referred to in the poem.
And his future self wears sandshoes.
17. A CLOCKWORK UNIVERSE
A weapon of mass destruction that is sentient and clockwork? Suddenly we have the Girl In The Fireplace, a previous Moffat script. The War Doctor is less than impressed, however. Gallifreyan script, Chinese puzzle box, stuff. And the spirit of the machine, like Idris the TARDIS, seeing both the past and the future and reflecting such in the present. "Didn't you want her to see it?" Or, see her. A direct reference to "The Doctor's Wife". Problems with sentient Time Lord technology.
18. THE NORSE DOCTOR
The War Doctor says to the Tyler spectre, "I have no desire to survive this", he sounds an awful lot like the Norse gods facing Ragnarok. He's setting up the Time Lords and the Daleks to be destroyed while locked in their struggle, so like Odin or Thor, he expects to be part of the end of things. Should we go further with the long Norse-associated name Bad Wolf? The Fenris Wolf who swallows the sun and the moon?
19. QUEEN FOR A DAY
You can now really see why the Queen might be a little upset at her errant husband upsticking and leaving, when he returns in The Shakespeare Code. And we never actually got a King Doctor. Shame.
20. KILLER BUNNIES
There is actually a precedent for killer bunnies in cinema so maybe The Doctor had his judgment clouded by memories of Monty Python and the Holy Grail and the Rabbit of Caerbannog, or maybe Natural Born Killers or this year's Lone Ranger.
21. PYTHON AND THE DOCTOR
So, there's the Time Bandits bit with the Doctor and Liz 1 bursting out of the TARDIS on a horse. There's the killer bunny. Sort of.
And there's a machine that goes ding. Python's machine, from The Meaning of Life, went ping. But it's close enough. Though it also looks like The Doctor's jury rigged time measurement machine from Steven Moffat's Blink. But what else can it do?
22. IT CAN DOWNLOAD COMICS FROM THE FUTURE
David Tennant has build a device that has ComiXology embedded in it. Brilliant.
23. WHOSE IS BIGGER?
The War Doctor is not just troubled for the thought of killing billions to save trillions. But he also embodies criticism of the show. The casting of younger Doctors, them waving their sonic screwdrivers first as if they are phalluses, then as if they were weapons, flapping hands, "timey wimey", he becomes a meta version of Lawrence Miles. "Do you have to talk like children, what makes you ashamed of being a grown up?" Well, here is your answer.
24. DOCTOR WITCH
Witchcraft in the reign of Elizabeth I makes sense as an intersection with the Doctor. Elizabeth's advisor was after all John Dee. As picked up in Alan Moore and Kevin O'Neill's The Black Dossier. But a Double Queen and many more doubles to come really makes having three Doctors seem quite normal.
25. "I'M GOING TO NEED ACCESS TO THE BLACK ARCHIVE Odd visual juxtaposition there. But I can see this being pored over for days. 26. MINDWIPE PUNCHLINE
In Jenna Coleman's first Christmas special there's a good bit of set up with a mind-wiping worm creature. The set up feels like a joke but it pays off later.
Something similar happened in The Day of the Doctor with the seemingly throw away detail of the mindwipe device coming back into play in a future scene.
And this was a great scene too, with the "most perfect treaty" of all time facilitated because both scenes were made equal, neither allowed to slip into the role of "good" or "evil." The risk of slipping into those roles was an important theme tonight, in fact.
This is an actual philosophical device used when discussing the idea of equality, and the distribution of both resources and chances and life. If you didn't know who you were, what age, colour, race, orientation, and you had to make the rules for the world, what would you do? Well, you'd make everything fair, just so that you could guarantee yourself a decent outcome. Equanimity through selfishness. But we're getting ahead of ourselves again.
27. SEVENTIES OR EIGHTIES
The Jon Pertwee Doctor Who years were meant to be set in the near future, the nineteen eighties. But every now and then they'd slip in a reference that it was in the seventies, when it was filmed. So, checking records for the "seventies or eighties" is a very neat way of encapsulating both versions.
28. MESSAGE IN A SONIC SCREWDRIVER
A message from the past to the present, and a looping mathematical problem in the sonic screwdrivers, some really fun time technology courtesy of a dead Captain Jack Harkness, that's all for nothing since the door was unlocked. Absolutely beautiful, and it got Clara away from those Zygons rather swiftly.
29. YOU WON'T REMEMBER THIS, A KISS IS JUST A KISS The War Doctor makes some quip about the Doctor having a kiss, "Is there a lot of that in the future" or similar. Smith's Doctor admits that, yes, there's a bit. But… didn't the kissing start in the TV movie, therefore be something that he could remember? Maybe he thought it was just a one off. He was designed to be a fighter, not a lover, after all.
Also, this means the Doctor has three wives – Queen Elizabeth I, River Song and the TARDIS herself. Could we have a Three Doctor's Wives crossover special at some point?
30. OTHER TIME TRAVEL STORIES ARE AVAILABLE
"Right then, back to the future". Ha ha.
31. KETTLE OFF The TARDIS gets a bunch of desktop themes, including the round things "I love the round things" – and they skipped the copper kettle TARDIS with its very difficult reflections for filming.
32. WHAT A DIFFERENCE A… 400 YEAR PERIOD MAKES
Forget the Day of the Doctor, the Zygons were more interested in the difference that 400 years would make. The didn't fancy Elizabethan England but were quite into 21st Century life.
Seeing as they didn't break out last year, for example, it must be something very new that they were waiting for. The appointment of Peter Capaldi, maybe?
33. TIMEY WIMEY CUP-A-SOUP
This, by the way is Cup-A-Soup. And this is a very naughty time trick, but it's just a tiny change. And it lets the Doctors do something so, so wonderful, by breaking out the Dorian Grey photo. And yes, again with the Nightmare Of Eden. But what are they now? The actual Doctors? Captured reflections of Doctors? And if they are the real thing, haven't they got the key to rescuing a piece of Gallifrey right now without having to go to war? Best rush over that one, look elsewhere, it'll be fine. Look, a rabbit.
34. A ROSE BY ANY OTHER NAME The rose-looking red button on The Moment was designed by the moment to evoke Rose, not the other way around.
35. MULTIPLE TARDISES
Okay, I did a scene a bit like this in my Doctor Who comic, crossing Doctors, crossing TARDISES, for similar reasons. Also, it just looks great. And we have Doctors reclaiming, owning up to their past and getting rid of their cognitive dissonance and compartmentalisation. Growing up. Using words like "Equidistant". But then…
36. THE SOLUTION
And we get a similar solution to the Death Of The Doctor, wherein what happens looks like it always happened, but instead something else happened instead. Time is maintained, continuity is maintained and billions of lives are maintained. In some kind of half-alive, frozen state for hundreds of years, but even so, a chance. As long as they aren't the Bad Time Lords again, we've had enough of them.
37. TINY FROZEN TEARDROPS
Gallifrey being stuck in a painting at a decisive moment contains echoes of Oscar Wilde's famous story, "The Picture of Dorian Gray". It can't move in time, and yet it contains, in a way, the Doctor's worst qualities, like the identity he hides away. And eerily, with the three Doctors in play during the special, it was particularly noticeable that they were aging "down" as the War Doctor points out. They are getting younger and younger while the really brutal legacy they should carry but attempt to forget about is contained in the painting. Now, will Gallifrey frozen, that's even more the case, and yet, destroying that pocket universe and freeing Gallifrey from tragedy would also break the spell. Capaldi is much older in appearance than Tennant and Smith, for instance. This could be because he is engaged in breaking the spell of frozen time.
38. SHE'S NOT A BAD WOLF, SHE'S A GOOD WOLF
"Dear God, three of them. I didn't know when I was well off. All twelve of them."
A direct reference to the Brigadier Lethbridge Stewart line in The Three Doctors? "Three of them? I didn't know when I was well off" and a final "Splendid fellow, all of him."
39. "ALL THIRTEEN"
So they're sticking to the regeneration limit for now. Apparently. Will people now call him The Thirteenth Doctor? No, probably not. But we are!
40. CAPALDI EYEBROWS! And Scottish accent! But no costume reveal. Not yet. But John Hurt is credited as The Doctor in the end credits. Peter Capaldi is not. 41. "THIS BODY IS WEARING A LITTLE THIN" The First Doctor's final words and the War Doctor's final words too. And, Bleeding Cool readers, as he says, "he is the Doctor again".
And hoping for less conspicuous ears? He might as well have asked to be ginger. And… that is the closest you'll get to see Christopher Eccleston's face coming into regenerative view. Next stop for him… Rose. Shame he won't recognise her.
42. "I DON'T WANT TO GO"
Already quoted in this week's An Adventure in Space and Time, David Tennant's sad plea from his regeneration sequence was reprise again tonight. This time, he got to give it an entirely different line reading by himself. Maybe this can be a new thing for him. Are you listening, Chris Chibnall? Stick a few "I don't want to go" into the next series of Broadchurch.
43. A DICKENS OF A DOCTOR
The tripartite structure of the special in terms of character for the three Doctors has a kind of inverse relationship to Charles Dickens' A Christmas Carol. The spectre version of Rose is the single ghost who guides three versions of Scrooge, in a reversal of role. But just like the three times visited in A Christmas Carol bringing out different qualities in Scrooge, each Doctor displays the three attributes of these episodes from the original story. One Regrets, one regrets, and one, the youngest Scrooge, has the capacity to avoid all these things. The observing Scrooge of the novella is the one who brings choice to the table. In the special, it is actually the visibly youngest, the 12th Doctor, who forgets, the 11th who regrets, and the 9th who has the potential to avoid these things (and he is actually, of course, the youngest). Together, however, they create a new self, like the observing Scrooge. Their combined experiences may be able to bring about a miracle and essentially a new self by rewriting their past.
44. TRENZALORE
[youtube]http://www.youtube.com/watch?&v=DMOOLd_44Mo[/youtube]
45. TOM TOM
Okay, a long time ago, there was another revival of Doctor Who planned for the BBC called The Dark Dimension. It would have featured all then then present Doctors, Jon Pertwee, Tom Baker, Peter Davison, Colin Baker and Sylvester McCoy, but prominently Tom Baker, visibly aged, as a Fourth Doctor that had never needed to regenerate at Logopolis, and so just… aged. And a timeline that needed fixing as a result. Is that who the Curator is? Or is he a future form of the Doctor, beyond his final regeneration, revisiting "old faces"? Clearly he is meant to be The Doctor in some form. He is a bit gnostic. And is really sledgehammery at dropping hints.
46. UNLESS…
He's a bloody Zygon, who stuck around from the seventies, pretending to be the Doctor and has aged along with his time. And conned Queen Elizabeth I again.
He's a Zygon! Quick, Doctor, quick!
47. CHOOSING FACES
The dialogue of the "curator" seems to suggest that the Doctor will again get a chance to choose his regeneration, as from McGann to Hurt, and not only that, he'll be able to "revisit a few" if only "the old favourites."
Maybe the option to choose faces will have something to do with the breaking of the regeneration limit, or perhaps even explain why Capaldi's face has shown up so many times.
And if the Doctor does get to choose, perhaps that's how we'll get a woman. And that should also bring about some ginger hair, finally.
Wonder what that Gillan girl has got booked in for… 2017, say? She'd be an interesting choice.
48. THE ELEVENTH LIE
HOUSE: "Fear me, I've killed hundreds of Time Lords"
DOCTOR: "Fear me, I've killed all of them" – The Doctor's Wife
Not any more, he didn't. No Blinovitch issues either.
49. DO THE POSTER The posters that have advertised the anniversary stuff so much, that were all over the Celebration, and now canon!
50. JUST THIS ONCE, NOBODY DIES
Everyone lived. Well, okay, apart from some Daleks and people who died in the Time War before that big red button was pressed. And in our time, those the Zygons attacked were kept alive, even. Moffat does like that. Okay, so not everyone but billions.