'Fighting With My Family': Enough Heart for WWE Fans and Non-Fans Alike
Fighting With My Family, the new origin-story chronicling the real-life rise of Saraya-Jade Bevis to become WWE superstar Paige, is something entirely unexpected – a wonderful, well-performed, self-assured, success. Drawing a direct parallel to the film from professional wrestling isn't entirely off-base: it tells a story that's not entirely true (things are embellished and over-emphasized for dramatic effect), but people involved have enough heart to win over the crowd and make something that in lesser hands might have been trite or silly.
It's really unfortunately the the marketing campaign for this film so underplays the point that this is about the rise of a key figure in the modern rise of women in wrestling, making the focus more on it feeling like some odd wrestling family version of The World's End.
[rwp-review-recap id="0"]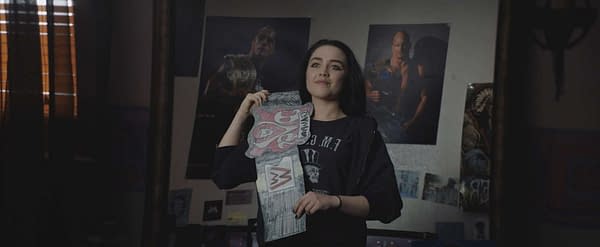 Saraya (played by Outlaw King's Florence Pugh), is one member of a wrestling family which spans each member including her mother, Julia (played by Game of Throne's Lena Headey), father Patrick (Nick Frost), and her two brothers, Zak (Jack Lowden) and Roy (James Burrows). They run a local wrestling federation called the World Association of Wrestling and play to non-packed houses of spectators numbering in the tens. Between Saraya and her brother Zak, they teach the other kids in town how to wrestle and aspire to be accepted into the training league for the WWE.
Sure enough they get their chance and run into Dwayne "The Rock" Johnson (as himself), who imparts a few words of advice to the newcomers. This story is so much tired roadway that there really is every opportunity for this to be a dour slog. From Rudy to Greater to any other "newcomer walks on and the pros don't accept them though adversity" – the story beats are pretty much typical, you can probably scribble out the general happenings even before you watch the film and you'll probably be close. That and it's wrestling, of which many members of the audience will really have no interest in. Beyond the typical lack of interest in some forms of sportsball that you'll get from some people, wrestling is often one of those entertainment events that people either love or really don't care for – with very little in-between. Family winds up making even die-hard non-WWE fans (like myself) rooting for Saraya and her family.
While Patrick and Julia are played with a constant sense of humor, it's not because they are portrayed as a farce – it's because the family is in a position that if they didn't have their humor and ability to laugh at life, they would probably fall apart from despondency. This is probably one of Frosts best roles to date – he's humorous in other films, sure, but there's a honesty and real-world vibe to this family that makes it feel that much more sincere. The family's life has been hard, but they love what they do, and they get joy out of bringing entertainment to others, even if there's only twenty others in the room at the time.
The melodrama only goes over the top a few times, and those who follow WWE and are familiar with Paige's rise will know that eeehhh, it wasn't quite this out of the blue, and her dramatic coming out of her shell was less so in the real world. But like it's said when at a family dinner hosting Zak's girlfriend's parents for the first time: wrestling isn't fake, it's fixed. The same can be said of Wrestling with My Family, it's not really fake, it's just fixed, and they go into the ring and about their lives in a way that brings joy to those who watch it.
The Rock isn't in the film very much, but he plays a pivotal role a few times. However as the executive producer on the film his own touch can be felt through much of it, both his own type of personal humor as well as belief in the story he's trying to tell. If you're a WWE fan, you'll love it; if you're not, you still likely will, but bring along a fan who can help explain why everyone else is laughing at various points in the film that you'll miss.
Check out a behind the scenes featurette that will help get you into the groove.
Fighting With My Family opens worldwide on Friday February 22nd 2019.
[rwp-review-ratings id="0"]
[rwp-review-form id="0"]