[SXSW 2019] Marvel: From Comics to Screens Reminds FilmFest Attendees *GASP* Comics Exist
Marvel Comics Chief Creative Officer Joe Quesada and Editor-in-Chief C.B. Cebulski took over a packed ballroom at the Austin Convention Center during SXSW (South By Southwest) on its opening day- Friday, March 9th- to deliver an important message to a rapt audience of cinephiles: READ YOUR COMICS.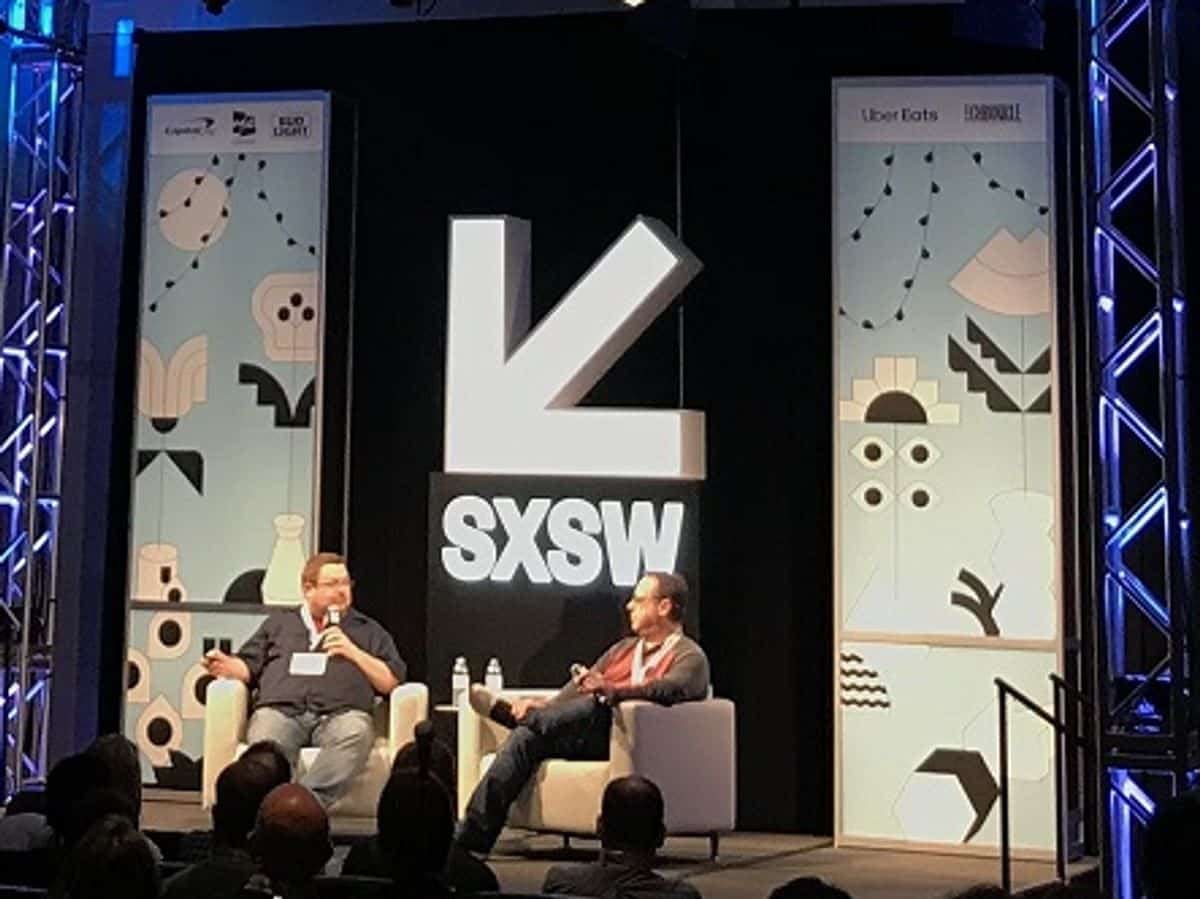 During their hour-long presentation, they went through all of the various stories and creative artists and writers who inspired the blockbusters of today. No real surprises, but essentially a greatest hits collection of the various IP that has been mined to bring us the MCU.
First, Dear SXSW, this needed to be in a bigger room. This was one of the most hotly attended panels of SXSW Day 1, and while seats remained plentiful in some of the keynotes in the larger venues, this was packed to capacity. Second, given the giant interest and hype around all things MCU in the film world right now, Marvel should've brought their A-game. Cebulski and Quesda did just fine, all things considered, (they usually do) but they basically talked over a slideshow. Past Marvel presentations at SXSW have literally broken the internet (ok, well, just a few websites) when they rolled out major digital comics initiatives. And they did a great job in years past bringing in surprise guests– including Clark Gregg (Agent Coulson himself!) via Skype. Compared to that, this just felt anti-climactic.
Plus, given the panel taking place on the release date of Captain Marvel and International Women's Day, there was a relative paucity of representation of women. Perhaps my view is tinged by the fact that Marvel followed a presentation by the editors of Cherrypicks, the critical aggregator of female film critics, and the general "Up With Women" vibe of SXSW Day 1 in general, but it still felt odd to just have sort of the same old show we'd expect at any old comic convention. This was a squandered opportunity for both SXSW and Marvel, even though there was nothing technically wrong or bad about it.
Ok, so enough of the kvetching– the panel was actually pretty fun and would be a great introduction to the world of comics for more casual MCU fans who only know the characters from the screen, which, ostensibly, a lot of the Film Festival attendees are. I've had a lot of great conversations in line the last few days talking with other folks, especially about Captain Marvel and Avengers: Endgame, and even among a lot of these rank cinephiles, not many have actually read the books they're based on.
However, the crowd in attendance may have been a little more in the know, as there were cheers for luminaries like Jack Kirby and how their visual style inspired so much of the look of comics and our films. But, perhaps surprisingly, the biggest cheers came for Christopher Priest, as Quesada explained how much of last year's blockbuster was inspired by Priest's run on the Black Panther comic.
There were also a few fun nods to other Marvel adaptation and how they've inspired the cinematic universe. The 90's X-Men cartoon was a gateway for so many people who now work in comics and in the movies. Storm, specifically, was a touchstone for so many young women to see a leader who is a black woman. The value in that representation can't be understated.
Speaking of animation, they also pointed to the turning point in time when the "Infinity Gems" of the comics were re-branded as "Infinity Stones" and it just so happened to be. . . The Super Hero Squad Show? Indeed. Luckily, Quesada was otherwise mum on the cringy moment in the cartoon when Reptil and Hulk make a joke about their "cheesy friend" Joe (who served as Executive Producer). Good thing. We didn't need to be reminded of that. Wait. Yes, yes we do:
https://www.youtube.com/watch?v=dBfh7dsUoA0
Another interesting and unexpected break was a discussion of Blade, which almost everyone forgets was a Marvel comic. Quesada pointed out that Blade never sold comic books, but the success of the first film led other studios to produce more comic book movies. Those first two Blade movies are pretty good, especially the Guillermo Del Toro helmed second one.
This was a fun panel and a nice walk down memory lane of all of the comics that inspired the films that we love so much. But SXSW can do much better by putting this is the larger venue it deserves and bringing in a broader subset of Marvel talent. The panel begged the question of "Which Marvel storyline from today will inspire the movies of a few years from now?" Let's bring in the creative teams behind The House of Ideas– even if just in a video montage let's hear from folks working on some of their top stories. You know who would draw a GIANT crowd at SXSW (especially as politically-oriented as the festival is this year?) Ta-Nehisi Coates. Or here's an idea– get some of the filmmakers from the MCU to talk about their favorite comic books. Don't just tell us how much of a comic book nerd Kevin Feige is– do a trivia contest between him and Tom Breevort and let's see how he does! Bring in Ryan Penagos and Lorraine Cink and have some banter. (Not that Quesada and Cebulski aren't fine, but. . .)
I'm glad I attended the panel. But I hope if Marvel returns in 2020 they do so more like they have done in the past, and they bring in newer, more diverse talent. And SXSW better put them in the biggest room possible.