First Official Image For 'Terminator 6' has Linda Hamilton, Mackenzie Davis
This is one of the few reboot/revisits/continuations of classic science fiction films and franchises that we're actually interested to see, Tim Miller's Terminator.
Being touted as the direct sequel to Terminator 2: Judgement Day (T2), Terminator sees the return (FINALLY) of one of the original badasses of ladies in the genre Linda Hamilton as Sarah Conor. Obviously this means her character didn't die in Terminator 3: Judgement Day (while training her friends in Mexico as reported by John Connor). She looks absolutely amazing, by the way.
She's joined in this first official image by Natalia Reyes, a Columbian actress who is playing character Dani Ramos (who we don't know anything about yet).
And perhaps the addition we're the most curious to see in action, Mackenzie Davis (Halt and Catch Fire).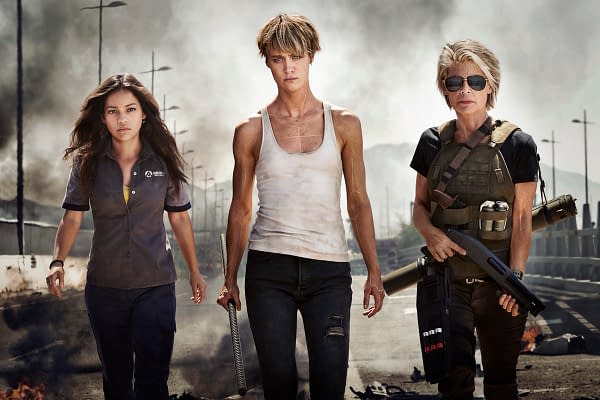 We do know that Gabriel Luna (Agents of S.H.I.E.L.D.) is on board as the new Terminator, and that Arnold Schwarzenegger is returning to the franchise as well.
Tim Miller (Deadpool, Thor: The Dark World) persuaded James Cameron to revisit the series, Cameron citing the current apocalyptic elements of cell phones, threat of nuclear war, and human reliance on machines creating this story for now.
CAMERON: There's a pride of authorship in anything that you do, and when David and I started talking about this, it made sense for me to see if there was a way to bring it into this century and to relevance. I look at what's happening now with the emergence of artificial general intelligence equal to or greater than humans', and you've got Elon Musk and Stephen Hawking and others saying that this could be really bad for the survival of the human race. What was science fiction in the '80s is now imminent. It's coming over the horizon at us. And there's been a resurgence of fear and concern about nuclear weapons and so on. So all of these apocalyptic elements are out there. The first two Terminator films that I did dealt with the angst around that and how we reconcile it for ourselves in a fantasy context. So I got excited about the idea of finding a story that made sense for now.

MILLER Jim is a more positive guy [than I am] in the present and more cynical about the future. I know Hawking and Musk think we can put some roadblocks in there. I'm not so sure we can. I can't imagine what a truly artificial intelligence will make of us. Jim's brought some experts in to talk to us, and it's really interesting to hear their perspective. Generally, they're scared as shit, which makes me scared.

This is a continuation of the story from Terminator 1 and Terminator 2. And we're pretending the other films were a bad dream. Or an alternate timeline, which is permissible in our multi-verse. This was really driven more by [Tim] than anybody, surprisingly, because I came in pretty agnostic about where we took it. The only thing I insisted on was that we somehow revamp it and reinvent it for the 21st century.

MILLER: The [first] films are more relevant today than they were when he made them. A lot of it seems like prognostication because it's coming to be — the world we live in right now.
Terminator 6 (which is just being called 'Terminator' at this point, a different title may be revealed eventually) is set to hit theaters November 22nd 2019.