Fisherman's Friends was a hit film in the UK and is now getting a US release. A drama about a London music executive trying to turn a group of shanties singing fisherman into the next big musical act, the film stars Daniel Mays, James Purefoy, Noel Clarke, Tuppence Middleton, Noel Clarke, and Davchrisid Hayman. Chris Foggin directs it from a script by Meg Leonard and Nick Moorcroft. It looks like a ton of fun, and you can watch the trailer down below.
Fisherman's Friends is the Type of Film Needed Now
"A fast living, cynical London music executive (Daniel Mays) heads to a remote Cornish village on a stag weekend where he's pranked by his boss (Noel Clarke) into trying to sign a group of shanty singing fishermen (led by James Purefoy). He becomes the ultimate "fish out of water" as he struggles to gain the respect or enthusiasm of the unlikely boy band and their families (including Tuppence Middleton) who value friendship and community over fame and fortune. As he's drawn deeper into the traditional way of life, he's forced to reevaluate his own integrity and ultimately question what success really means."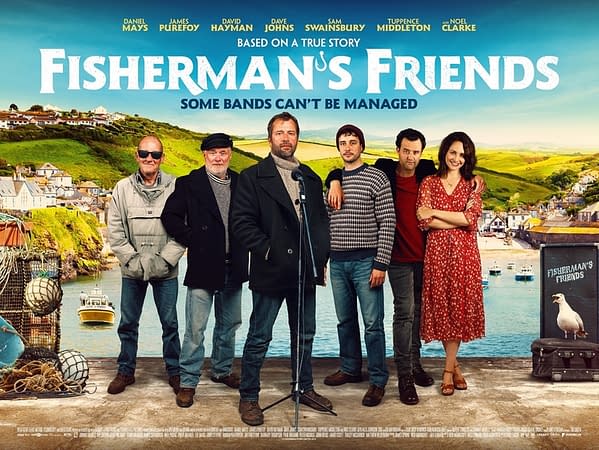 This looks like a pretty lovely little film and an uplifting one at that. With everything going on in the world currently, it will be nice to sit down and escape it all with a fun tale of sea shanties and some good old fashioned fish-out-of-water storytelling. Fisherman's Friends is based on a true story, and was a big success in the UK, but not without controversy either. That is a shame as it will be hard to see the film without thinking of that while watching. The film hits VOD on July 10th, and On Demand on July 24th.
Enjoyed this article? Share it!