Watch: Golden Globe Winner Gary Oldman in 'Darkest Hour' Behind the Scenes
On Sunday, celebrated actor Gary Oldman FINALLY received a Golden Globe award. The accolaid-in-statue-form came for his stellar performance in Joe Wright's film, Darkest Hour.
Following a period of time from the beginning of Winston Churchill's appointment as Prime Minister to the Dunkirk operation Dynamo, Darkest Hour shows a very different Churchill than we've seen previously. The makeup alone that Oldman emotes through is astounding, the script engaging, and the supporting performances of Kristin Scott Thomas as Clementine Churchill and Ben Mendelsohn as King George VI are equally admirable.
I was lucky enough to spend an evening with the cast, director, and writer at a SFFILM event and awards ceremony honoring Gary and the monumental film. You can read about that experience here.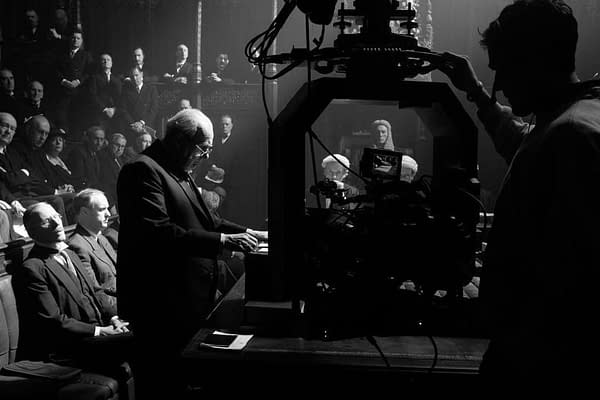 Working Title just released this short behind-the-scenes video featuring Oldman in full Churchill getup preparing to film a scene. Specifically, one of the great orator's moving addresses to the House of Commons.
Check it out:
The production was granted the rare opportunity to film inside Westminster Palace, with additional special clearance for Oldman to be allowed to smoke the official Churchill cigars (Gary himself says they went through somewhere around $30,000 worth). Darkest Hour is the second film granted filming permission at Westminster Palace.
Darkest Hour also has nine BAFTA nominations (full list for 2018 noms here) including best actor, supporting actress, best film, best makeup, and best British film.