Hamilton debuts on Disney+ in just nine days, and you can bet we are not the only ones counting down. The powerful 2015 musical has numerous awards to its name, including Tony's, Grammy's, and even a Pulitzer Prize. Many of us have never seen it or were not fortunate enough to see it with the original cast. Thankfully, that ends on July 3rd, as Lin-Manuel Miranda and director Thomas Kail will bring us a filmed version of the stage show with the original cast for the world to see. It is all very exciting, and Miranda and Kail sat down via Zoom with Variety to talk about the musical itself, and how they went about filming Hamilton to capture a moment in time.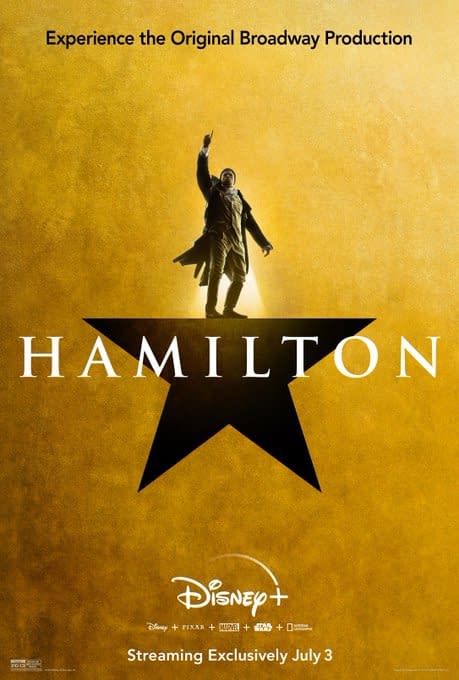 Hamilton Just Needs To Be Seen By All. That's It.
The pair on why they decided to film the show in the first place, and what their motivations were- Miranda: "Theaters struggle with the notion of accessibility. We had our front two rows for 10 bucks via lottery. We did extra shows out in the street for people. So we prioritized two things: One, we said, "It's a crime if kids can't see this show." And then it was, "How do we preserve the lightning in the bottle that is these actors in this moment?" Kail: "We were conscious that if you film anything, it changes the equation. It's not a negative impact; it just changes the thing. This was as close as we could get to trying to collect as much of the energy that existed in the room at the Richard Rogers in New York City."
Before Disney+, Hamilton was supposed to be released in theaters this way by Disney in 2021. Miranda hopes that is still a possibility: "We hope the possibility still exists and that once movie theaters are open again, there's a world in which this plays in movie theaters. But you also have to acknowledge the timeline of the reality you live in. The timeline we live in, there's no live theater anywhere. I'm just thrilled that we have this giant, joyous reminder of how special live theater is in the form of this "Hamilton" movie."
Man, I cannot wait for this. You can enjoy this along with the rest of us when Hamilton hits Disney+ like a freight train on July 3rd.
Enjoyed this article? Share it!