It's New York Comic-Con (NYCC) time, and one of the hottest (literally) panels this year is Hellboy.
A brand new poster was revealed, featuring David Harbour and all his Big Red glory: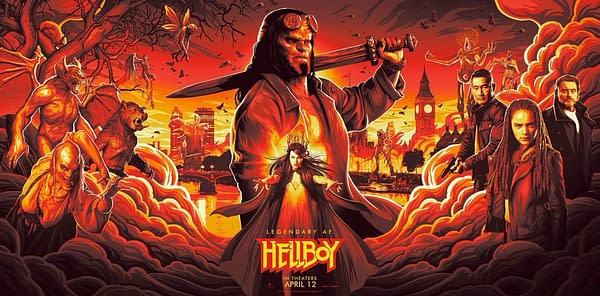 We're hoping for a trailer! Keep checking back, we'll be updating throughout.
The cast of Hellboy takes the stage at New York Comic Con! #Hellboy #NYCC18 pic.twitter.com/uzmuKYhFHQ

— Fan Fest News (@FanFestNews) October 6, 2018
Mignola says that Neil Marshall's The Descent is one of his favorite horror movies. Good call. #Hellboy #NYCC

— Mike Cecchini is at #NYCC (@wayoutstuff) October 6, 2018
On hand for the panel are Hellboy creator Mike Mignola, and cast members Daniel Dae Kim, Sasha Lane, and Harbour.
Mignola spoke with Dark Horse earlier during NYCC about Hellboy:
Apparently Mignola's wife thought Harbour would be a good Hellboy while the pair were watching through Netflix's Stranger Things, which Harbour has been twice nominated for an Emmy for.
Daniel Dae Kim commented: "Seeing an Asian American in comics is great."
Unfortunately Milla Jovovich wasn't able to attend the panel, but her character of the Blood Queen was spoken about with Mignola saying, "She is very bad, but very good from her perspective, which is what I like in a villain."
"She's like my favorite!" Harbour said. "Sorry. She's amazing. I've known her from these films… It almost sounds weird, but I kind of grew up with Milla. The Fifth Element! She's done so many movies, I was kind of intimated… She wound up just being lovely and really excited about the project, which you don't always get or expect from big stars coming into a project like this. She was really interested in the whole movie, and really put her all into it. She's a beautiful actress and human being."
BUT WHAT ABOUT THE PRACTICAL EFFECTS, HARBOUR? "It is a monster movie, right out of Frankenstein, updated for 2018."
Harbour built himself a homemade #Hellboy costume out of a boxing headguard, a wetsuit, and other odds and ends, so he could train on his own and get used to doing the stunts and fighting while encumbered by all the crazy makeup and prosthetics. #NYCC #NYCC2018

— Mike Cecchini is at #NYCC (@wayoutstuff) October 6, 2018
#Hellboy footage is a LOT of fun. Great worldbuilding, Harbour looks great, tone still has a sense of humor, and there is no shortage of monsters and Mignola-esque elements. #NYCC #NYCC2018

— Mike Cecchini is at #NYCC (@wayoutstuff) October 6, 2018
BOOOOO, the footage shown during the NYCC panel will NOT be released.
Saw the teaser trailer for #Hellboy at #NYCC (will not be online). It looks fucking badass. David is pitch perfect. Consider me pumped.

— Beth Elderkin (@BethElderkin) October 6, 2018
Hellboy is set to open on April 12th, 2019.
Enjoyed this article? Share it!