Back in October, we got the opportunity to check out something really cool. STXsurreal, the virtual reality division of STX Entertainment, invited us to take a first look at their new VR film The Limit. It's starring Michelle Rodriguez, directed and written by legendary action director Robert Rodriguez, and co-written by Robert Rodriguez's son Racer Rodriguez. We got a chance to look at the film which takes place entirely from the first person perspective. Everything looks incredible and you really feel like you are there, but there were a few moments that might turn the stomach of someone who is sensitive to that sort of thing. VR still isn't perfect, but it's going to take people experimenting like this to get it there.
We got a chance to interview Robert Rodriguez (Director/Writer, Double R Productions), Racer Rodriguez (Co-Writer, Double R Productions), Michelle Rodriguez (Actor) and Andy Vick (Co-President of Virtual Reality & Immersive Content, STXsurreal) at New York Comic Con and now we can finally show you the interview.
Robert Rodriguez talked about what it's like to see a story through a first-person view.
You're the co-star and she's talking to you like you're an equal and you're wondering who the hell am I, and you start finding out who you are. I've talked to people who've had amnesiab they wake up and people are talking to them and they don't know what's going on. It's kind of like that feeling. So the audience putting it on and really feels immersed in the story because they're coming in new to this world, and it's cool to be an action film. It has the language of an action film. It's got the sound fx, the stunts, the craziness, the story moves, and you're really in there. The story is transportive.
Here is the rest of the interview:
From award-winning filmmaker Robert Rodriguez, THE LIMIT is a live-action, first-person POV short-form virtual reality film starring Michelle Rodriguez as M-13, a genetically-enhanced weapon of mass destruction hell-bent on destroying the covert agency that created her. The film, co-written by Racer Max, is an original concept built from the ground-up as a native VR experience, and is being produced in a new cinematic VR format that bridges the gap between traditional widescreen and 360-degree video.
Here is a poster and trailer for the twenty-minute short film which launched today.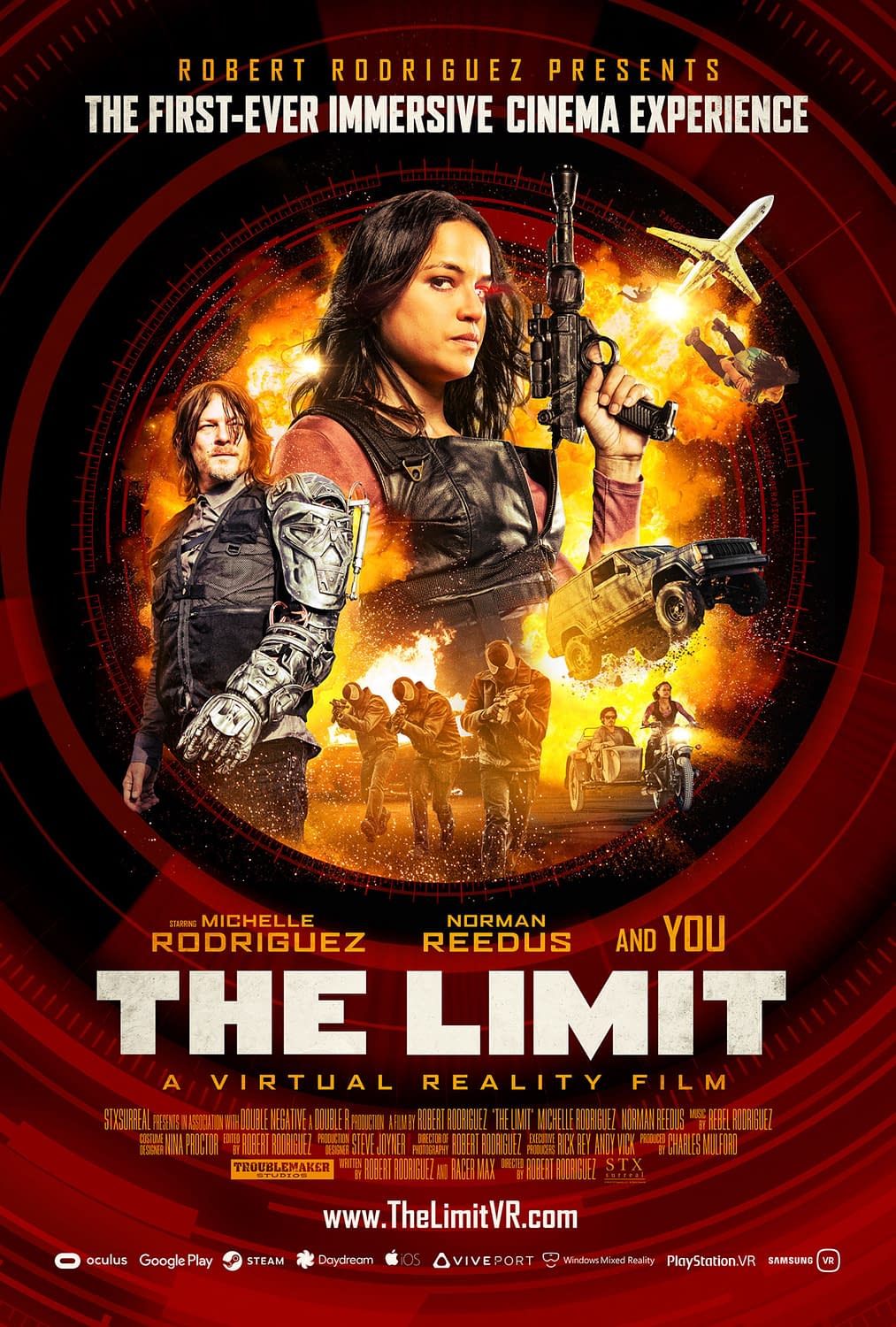 Enjoyed this article? Share it!