Filmmaker and resident cool dude James Gunn continues to reveal tidbits of information via his social media accounts. If you haven't seen the most recent MCU film, there will be a spoiler in this here piece, so maybe find something else to read if you're at all concerned.
Darn those pesky spoilers; another day or two and we'll stop with the [SPOILERS] in our Avengers: Infinity War coverage.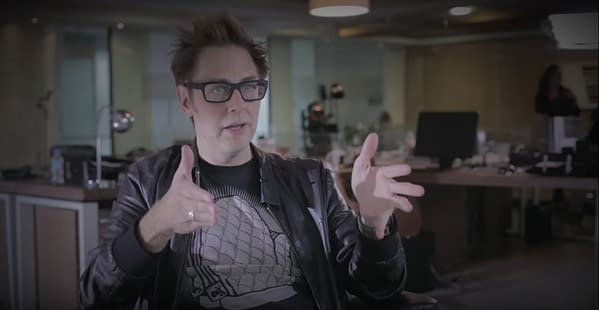 Today on Twitter, Gunn revealed the name of the new spaceship used by his band of heroes from Guardians of the Galaxy as seen in Avengers: Infinity War. You may recall Peter Quill aka Star Lord (Chris Pratt) had a ship in the first GotG film called the Milano, after his favorite Terran actress of the day, Alyssa Milano.
It of course was torn apart in the action during Ronan The Accuser's attack on Zandar, but the Nova Corps rebuilt it at the end of the first Guardians film. Then, in the action of Guardians Vol 2, the rebuilt ship was docked inside the Eclecto, the Ravager ship. You can draw your own conclusions about the supposed 4 year gap between Vol 2 and Infinity War, chances are there was need of a new ship in there somewhere.
From the trailers (hopefully you've seen those if you're still reading) for Infinity War, you see the Guardians greet Thor (Chris Hemsworth) aboard a ship, which is NOT the Milano. This new ship, as James Gunn revealed, is named after another notable Earth entertainer.
The name of the Guardians' ship in #InfinityWar is The Benatar. https://t.co/5OZ2L0CCBd

— James Gunn (@JamesGunn) April 30, 2018
Someone of course was quick to point out that the Mix Tapes have been music from the 70's up til this point, to which Gunn responded:
All the SONGS so far have been from the 70's, not the references. That said, Pat Benatar's first album was released in 1979.

— James Gunn (@JamesGunn) April 30, 2018
So there you have it, the new ship is called The Benatar, which I'm totally going to say is an ode to "Ready Player One" (the book, note the quotes) and Art3mis's home-base planet.
He then revealed that the Eclecto is still around.
The Eclector Quadrant. They still have it. https://t.co/x7IRk9tnlH

— James Gunn (@JamesGunn) April 30, 2018
Avengers: Infinity War is currently in theaters now, and breaking box office records right and left.
Enjoyed this article? Share it!