Jamie Lee Curtis Calls Virus a "Piece of Sh*t I Made in the '90s"
Jamie Lee Curtis has been talking about Halloween at CinemaCon, taking place today. And the revival courtesy of Jason Blum. She said:
"It is still terrifying in its simplicity. Jason Blum has enthusiasm like a virus, and a good virus, not the piece of shit The Virus I made in the '90s."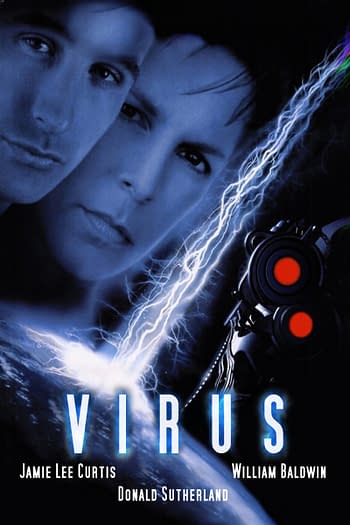 Virus, for those who don't remember, was a 1999 horror film directed by visual effects artist John Bruno and based on the Dark Horse comic book of the same name by co-screenwriter Chuck Pfarrer. Dark Horse owner Mike Richardson was an executive producer.
It starred Jamie Lee Curtis, William Baldwin, and Donald Sutherland, and told the story of a ship beset by a malevolent extraterrestrial entity that seeks to turn humanity into cyborg slaves.
It flopped, critically and commercially. It grossed $30 million worldwide against a budget of $75 million. It has a 9% approval rating on Rotten Tomatoes. So, you know, I guess someone liked it… and it turns out that it's Bleeding Cool's general manager who just told me "Haha. It's funny… I really like that movie. It's a good combo of sf/horror."
But Jamie really doesn't. And she's not letting it go. In 2003 she told IGN:
"Virus is so bad that it's shocking… That would be the all-time piece of shit…It's just dreadful… That's the only good reason to be in bad movies. Then when your friends have [bad] movies you can say 'Ahhhh, I've got the best one. I'm bringing Virus.'"
Well, you know, it has its 20th anniversary next year — are you sure there's no chance of an anniversary revival, Jamie? Mike Richardson tells me 'Jamie was great to work with. We had to overcome a number of problems to get the movie made. In the end, it was a great project with a great cast hurt by issues having nothing to do with Jamie. She was the best and I share her love of Halloween.'
Here's a reminder…