Harry Potter creator JK Rowling is no stranger to fan outcry, in fact she does her best via her twitter account to alleviate concerns of her followers as far as her universe is concerned.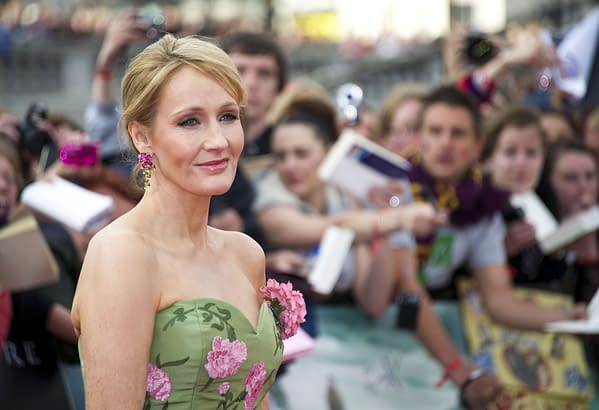 There was the very public outcry regarding Johnny Depp's continual presence in the Fantastic Beasts sequel amid allegations of various forms of unpleasant improprieties (in the vein of spousal abuse) against Depp's then wife Amber Heard. Director David Yates did say he had considered recasting Depp, but ultimately didn't because of his 'understanding of the circumstances'. Rowling echoed the sentiment after her fans questioned her position, and posted a lengthy statement on her website. Heard likewise responded after several other 'official' statements were released via her instagram.
The more recent issue stems from the revelation that young Dumbledore, as played by Jude Law in Fantastic Beasts: The Crimes of Grindelwald, will not be "explicitly" gay in the film. Yates went on to tell Entertainment Weekly "I think all the fans are aware of that. He had a very intense relationship with Grindelwald when they were young men. They fell in love with each other's ideas, and ideology and each other."
That doesn't really sound like he WON'T be, just that they will not make writing and production choices that make it a bigger deal, I guess. Not that it isn't a big deal, it's a part of the character, and a main reason the fallout between Albus and Gellert is as hurtful to Albus as it is.
Law did talk to Rowling about playing the enigmatic most famous headmaster of Hogwarts, you can read what he said about the experience here.
Rowling, who wrote the screenplay for the film, said during a press conference for the film series two years ago: "I can't tell you everything I would like to say because this is obviously a five-part story so there's lots to unpack in that relationship. You will see Dumbledore as a younger man and quite a troubled man — he wasn't always the sage…We'll see him at that formative period of his life. As far as his sexuality is concerned … watch this space."
She commented on the 31st via twitter that she was getting sent angry messages, 'abuse' she said, regarding the EW Yates interview.
Being sent abuse about an interview that didn't involve me, about a screenplay I wrote but which none of the angry people have read, which is part of a five-movie series that's only one instalment in, is obviously tons of fun, but you know what's even *more* fun? pic.twitter.com/Rj6Zr8aKUk

— J.K. Rowling (@jk_rowling) January 31, 2018
JK commented again today responding to a fan's concern via twitter:
Lucky I have no intention of doing it, then. Oh, and believing every bit of Potter clickbait? Foolish. Just saying 😉 #Dumbledore #FantasticBeasts https://t.co/7WMZZxHhOt

— J.K. Rowling (@jk_rowling) February 2, 2018
Fantastic Beasts: The Crimes of Grindelwald is set to hit theaters on November 16th, 2018.
Enjoyed this article? Share it!