Over 15 years ago Johnny Depp and Tim Burton brought a new take on Sleepy Hollow to theaters. Depp played a much more action oriented Ichabod Crane… similar to the one we have now with Fox's take on Sleepy Hollow… but with far fewer cool looking steampunk gadgets.
Now Sideshow Collectibles and Hot Toys have produced a sixth scale figure from their Movie Masterpiece series. The figure stands 12" high and comes with an incredible list of accessories. But lets start with the basics… the figure:
The detail work on the figure is excellent. The clothes look almost identical to the film down to the buttons and stitches. Even the frilly collar and leather boots look realistic. So the next thing would be the facial sculpt.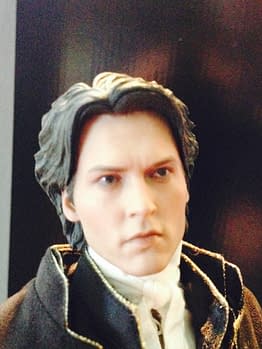 That is a real nice likeness to Johnny Depp. But then again this is the third figure they have produced of the actor so they should have it down well. Now the cool part of this figure is also the cool part of the character. The gadgets. We start with his black satchel that includes the rising tray.
From there you have to fill the tray, and like in the movie, you have a collection of bottles with all kinds of things in them. But you want to see more… the goggles, apron, forensic tools, magnifying glasses and even his gun are all included.
And to make them all work you get a variety of 8 hands in all, three left hands and five right hands. And you also get an extra hair…
And as always, they have put together a very nice package for this to ship in. All of the pieces have their place and the box art is so nice you'll never want to toss it away… but then again as a collector you never would anyway.
I think this is a very well done piece. The figure looks like it walked straight off the screen and onto it's stand. And as many of these figures I've gotten to see I think the sheer number of accessories makes this one of the coolest. They do a remarkable job on the sculpt from the leather feel of the boots to the ring on his hand to the multiple glasses to add to the goggles.
The piece was worked on by So Young, Lee (Head Sculpt) JC. Hong (Head Paint) Kojun (Head Art Direction) Hai Lim (Costume) and there isn't a weak spot on the figure. Fans of the Sleepy Hollow film, fans of Tim Burton movie or fans of Johnny Depp will want this in their collection.
For more information or to purchase the figure, go here: http://bit.ly/BuyIchabod
Also, for the Johnny Depp fans… be sure to check out their Tonto and Jack Sparrow figures for your collections.
Enjoyed this article? Share it!