Okay, the following joins some dots. There may be some spoilers here, but if so they are merely accidental.
Avengers: The Age Of Ultron. No Hank Pym. Yet. So who could invent Ultron? Well, we seem to already to have a semi-sentient arrtificial intelligence that's rather good at moving robot bodies around the place.
Could J.A.R.V.I.S. be Ultron? Modelled on the brain waves of Tony Stark?
Next, we have the return, somehow of Agent Coulson in Agents Of S.H.I.E.L.D. And there's a mystery something that "he must never know."
Is Agent Coulson a Life Model Decoy? Could he be an artificial intelligence.
Could Agent Coulson be Ultron?
Marvel Studios don't have the rights to the X-Men books. Which includes all mutant characters. As Uncanny Avengers may have recently prepared us for, they can't use the M-Word.
Yet they are using the shared characters Scarlet Witch and Quicksilver. How will they describe their powers?
In the SHIELD panel, supercharacters were described as "gifted".
Could that be where the trademarked term "registered gifted" is going to come into play? An alternative term for… the M-Word?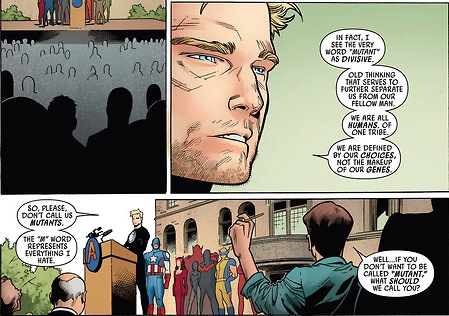 Or is this all a load of hobo's piss?