Jordan Peele on 'Us': More Straight Up Horror than Get Out, and the Twilight Zone Episode That Inspired Him
Jordan Peele is starting to ramp up his press for Us, his big follow-up to the smash hit Get Out. This one is about dopplegangers and looks pretty terrifying, in a different way than Get Out was. That Get Out was not seen as a horror film by some seems to have broken his heart a little. In an interview with Rolling Stone, Peele discussed just that:
"I'm such a horror nut that the genre confusion of Get Out broke my heart a little. I set out to make a horror movie, and it's kind of not a horror movie. As a horror fan, I really wanted to contribute something to that world."
Peele also talked about the Twilight Zone episode that inspired him when writing the film. 'Mirror Image' is the title, and it also deals with duplicates and parallel universes. (Peele is also bringing Twilight Zone back to the screen later this year on CBS all-access)
"It's terrifying, beautiful, really elegant storytelling, and it opens up a world. It opens up your imagination."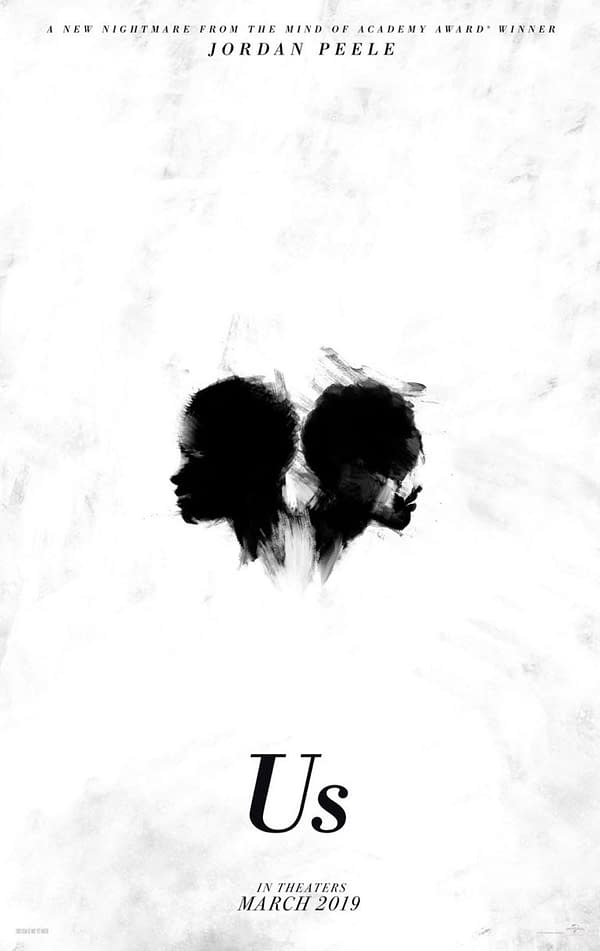 A mother (Academy Award winner Lupita Nyong'o from Black Panther, Star Wars: The Last Jedi and 12 Years a Slave) and a father (Winston Duke from Black Panther) take their kids to their beach house expecting to unplug and unwind with friends (including Emmy winner Elizabeth Moss from TV series The Handmaid's Tale). But as night descends, their serenity turns to tension and chaos when some shocking visitors arrive uninvited
Us, directed by Jordan Peele, and starring Lupita Nyong'o, Winston Duke, Elizabeth Moss, Tim Heidecker, Yahya Abdul-Mateen II, Anna Diop, Shahadi Wright Joseph, Evan Alex, Madison Curry, Cali Sheldon, and Noelle Sheldon opens on March 22, 2019.