"Jumanji: The Next Level" – The Rock Channels His Inner-Danny DeVito [OFFICIAL TRAILER]
The wild world of Jumanji is open for business, so when someone close to the group finds themselves in trouble it should be a piece of cake for Dwayne "The Rock" Johnson, Jack Black, Kevin Hart, and Karen Gillan. I mean, they've gone through this before – there wouldn't be this sequel Jumanji: The Next Level otherwise if they didn't. Except this time, the game's changed: everything they thought they knew has been flipped and twisted. This time, the rules of the game have changed, the game board has been expanded, and… yes, that is "The Rock" channeling his inner-"Danny DeVito"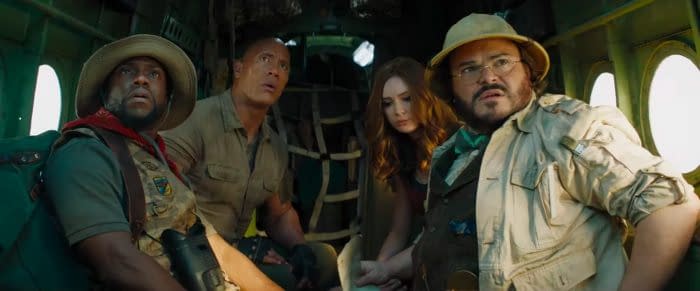 You know what? With a paragraph ending like that… why wait? Directed by Jake Kasdan, written by Kasden, Jeff Pinkner, and Scott Rosenberg, and based on the book Jumanji by Chris Van Allsburg, here's a look at the first official trailer for Jumanji: The Next Level:
In Jumanji: The Next Level, the gang is back but the game has changed. As they return to Jumanji to rescue one of their own, they discover that nothing is as they expect. The players will have to brave parts unknown and unexplored, from the arid deserts to the snowy mountains, in order to escape the world's most dangerous game.
Jumanji: The Next Level stars Dwayne Johnson, Jack Black, Kevin Hart, Karen Gillan, Nick Jonas, Awkwafina, Ser'Darius Blain, Madison Iseman, Morgan Turner, and Alex Wolff; with Danny Glover and Danny DeVito.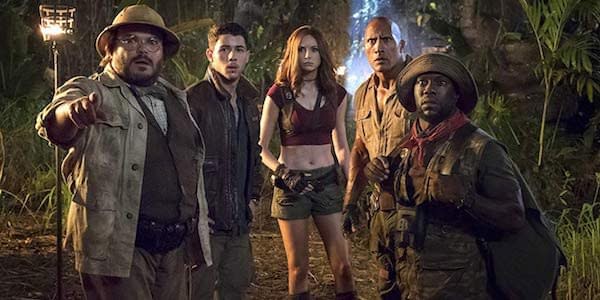 Matt Tolmach, Jake Kasdan, Dwayne Johnson, Dany Garcia, and Hiram Garcia produce, with David Householter, Melvin Mar, Scott Rosenberg, Jeff Pinkner, William Teitler, Ted Field, Mike Weber, and Chris Van Allsburg.