Justice Society: World War II – Armen Taylor Talks Jay Garrick's Voice
During a battle against a platoon of Nazis during 1940 Germany, Jay Garrick, alongside his Golden Age teammates, is shocked by the appearance of future Flash, Barry Allen. The two Flashes must work together to win the war and find a way to send Barry home in DC and WB Home Entertainment's newest feature, Justice Society: World War II. Showcasing a new take on the first meeting of the two speedsters is Armen Taylor as the calm, scientifically analytical mind of the original Flash. Mostly known for his voice acting in animation and video games such as One punch Man, World of Warcraft, and Jo Jo's Bizarre Adventures, Taylor easily transforms into the speedster from days gone by. As fans eagerly anticipate the April 27th release date, Armen takes a minute with Bleeding Cool to answer a few quick questions about his history with the character, meeting the future speedster, and how Jay and Barry react to each other.
BLEEDING COOL: Your voice is a little more mature than your face, and your performance has an air of mature confidence. What ideas did you bring to the booth, or did Wes Gleason (Voice director) help you find the voice of Jay Garrick?
ARMEN TAYLOR: As so often with these DC things, unless there is an accent or something in particularly unique, like demons in the Constantine storyline or something, you by and large are using your own, more or less your own voice. So I came in, and Wes was like, 'I hired you because you're you, and what you bring to it. And you on the balls of your feet, or a little more caffeine, talking a little faster, moving a little faster.' You don't have to live in the deep growl of your voice so much. This is who you are. He explained the character as he Butch (Lukic – Supervising Director), and the writers envisioned it. And then the writing on this was so fantastic you just give over to it and get out of the way and let it do its work.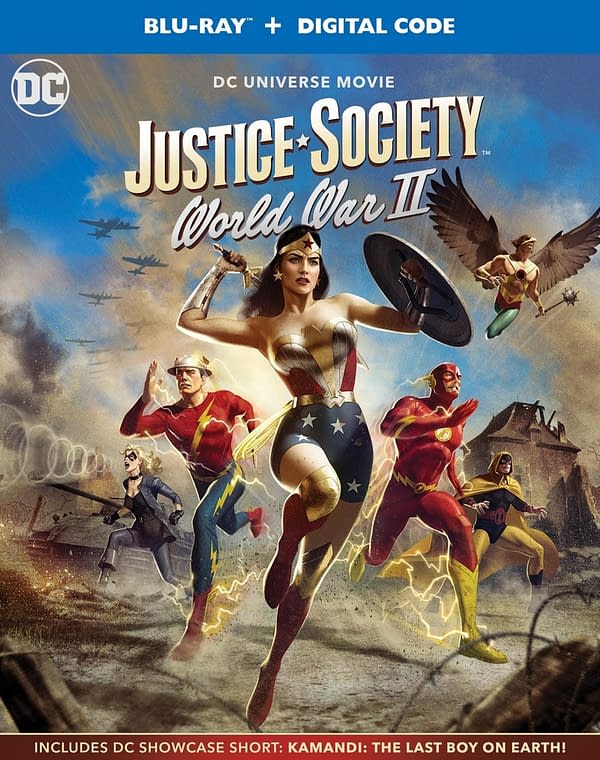 BC: Every member of the Justice Society gets a chance to showcase their abilities in this action-packed World War II adventure. On the other side of that dramatic coin are the heartfelt emotional beats pulsing through the story. Can you describe your first impression when you read the script?
AT: I'm blown away—such a great story. I loved the big grand epic thing, with World War II being pretty grand. I mean grand like fantastic on that scale. Any good superhero movie has a big fight at the end, and they're fighting these big large numbers of enemy forces, and yet, the human interaction and the relationships were so strong and so defining. Everyone sort of paired off – I can not be the first person to say this, but the Hawkman (Omid Abtahi)/ Black Canary (Alysia Rotaru) relationship was so great and so nuanced. I liked getting to be Matt Mercer's buddy in the trenches with Hourman. And of course, Steve and Wonder Woman, that was a great relationship. Then getting to have Barry Allen come in and how everyone reacted to him and his presence and sort of fit him into the team was a fun thing to see unfold.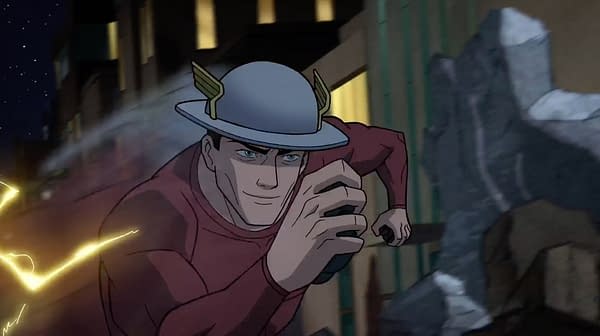 BC: You would expect Jay to mentor Barry, but they ended up being more equals; two are trading secrets and together learning about the speed force. Can you describe Barry and Jay's relationship?
AT: The way it was described to me as we were setting up to do the scene by Wes -' You love the speed force. You think about it all the time. It's your passion; it's your hobby. It's like figuring out what makes you work because you have a scientific mind; you know some of those superheroes accept their powers for what they are. They've always had them. You are very sort of self-aware and self-analytical. And you have talked to anyone who will listen about this, and the team does not want to hear any more about the speed force. They can all quote what you are going to say before you say it because you have said it so often. And then Barry shows up and is of a similar mind, and similar focus, and you guys get to talk about your passions'… One thing that Wes said was, 'Historically, he's been sort of an older mentor figure, but you're kind of the older brother. You don't know this guy from Adam, you've been fighting a war for years, your the brother that got deployed before the younger brother, so there is not such a difference of Father-Son thing, but there is kind of an older brother element of 'I've seen and done more than you, but then you can quickly get past that because you are family.'
BC: The Golden Age Flash first appeared in 1940 and since then has appeared numerous times across all forms of media, including television, video games, animation, and comic books. Can you describe what it is like to bring life to the original speedster?
AT: Intimidating in the best way possible. As an actor, I am very fortunate I get to work on a lot of different things. Do a lot of different characters in a lot of different genres. But to get the chance to play someone who is part of the cultural firmament, in such a way, is very- it's a huge honor. Especially one who has meant something beyond just the current generation. There are some great superheroes recently… But to do something that mattered to me and my grandparent's generation is (inaudible). My wife's grandfather was a huge fan of; he was 17/18, he became of age during the war and grew up reading the Justice Society books. So I got to talk to him about what that was like, what that represented to him. To see how important those characters were to a generation at a time where hope was in, at times, a low/tight commodity. What that meant to them is different than what it means to us now or in the Intermediate years. So it was cool to get a glimpse of Jay Garrick from the time, not just my own nostalgic view of it, but from someone who was there.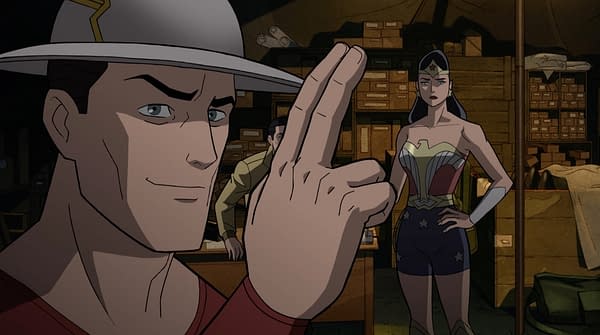 BC: How would you describe the difference between the booth recording a game versus recording a show or a movie like this?
AT: The big one is a lot of games they have these beautiful cinematic storylines and cinematic cutscenes, but a large part of it is, no matter if you are the lead character or you are just "Grunt #7" … With games, a lot of it is very functional work. You bring yourself fully to it, and you put yourself in the position, but you've got to get through lots of dialog. "Grenade, look left, look right." This functional stuff, so you go and get in the zone and move through it. And obviously, there are scenes where you slow down and take more time with them, but with this, you're playing out a scene like it would be an on-camera movie. It's different. You get to take more time; you get more liberty; you're not necessarily confined to 'We need this line out in 1.2 seconds for timing.' You can take your time, speed up or slow down, in the booth or in post. There is a little more freedom to it.
Justice Society: World War II stars Stana Katic (Castle, Absentia) as Wonder Woman, Matt Bomer (Doom Patrol, The Boys in the Band) as Barry Allen/The Flash, Elysia Rotaru (Arrow) as Black Canary, Omid Abtahi (American Gods, The Mandalorian) as Hawkman, Chris Diamantopoulos (Silicon Valley, The Three Stooges) as Steve Trevor, Armen Taylor (JoJo's Bizarre Adventure: Golden Wind) as Jay Garrick/The Flash, Liam McIntyre (Spartacus, Justice League Dark: Apokolips War) as Aquaman, and Geoff Arend (Madam Secretary, Batman: Hush) as Charles Halstead/Advisor alongside director Jeff Wamester (Guardians of the Galaxy TV series), co-screenwriters Meghan Fitzmartin (Supernatural, DC Super Hero Girls) and Jeremy Adams (Supernatural, Batman: Soul Of The Dragon), and supervising producer Butch Lukic (Superman: Man of Tomorrow, Constantine: City of Demons).
Produced by Warner Bros. Animation and DC, the feature-length animated Justice Society: World War II will be distributed by Warner Bros. Home Entertainment on Digital starting April 27, 2021, and on 4K Ultra HD Blu-ray Combo Pack and Blu-ray on May 11, 2021.