Knock At The Cabin, 80 For Brady Take Down Avatar At Box Office
Knock At The Cabin and 80 For Brady were able to finally take down Avatar: The Way Of Water at the weekend box office.
---
Knock at the Cabin ruled the weekend box office….sort of, as 80 For Brady also scored a touchdown. Both films took down the seven-week champ Avatar: The Way of Water. Cabin will open number one, with $14.2 million, with 80 For Brady surprising with $12.5 million. In a Shyamalan-style twist, Brady sold more tickets, however. That can be chalked up to a promotion with an exhibition where they offered discounted tickets to the older demo, which worked. Cabin becomes M. Night Shyamalan's seventh straight number-one opener, but this was $2 million less than his last film Old opened to.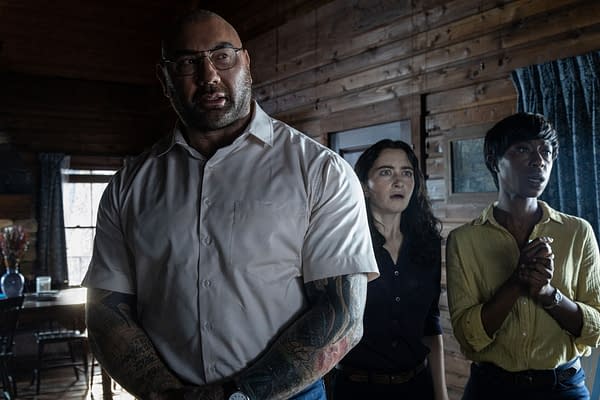 Knock At The Cabin Squeaked By Brady
Our champ of the last seven weeks, Avatar, still grossed $10.8 million as it begins to shed PFL screens ahead of the release of Ant-Man in two weeks. Fourth place belonged to Puss in Boots: The Last Wish with $7.95 million. That officially sent it over the $150 million mark domestically. Rounding out the top five was BTS Yet to Come In Cinemas, a concert film from the popular K-Pop band with $6.3 million. Everything they touch turns to gold, I swear. In sixth place and of note, A Man Called Otto grossed $4.1 million and sent over the $50 million mark domestically.
The weekend box office top five for February 3rd:
Knock At The Cabin- $14.2 million
80 For Brady- $12.5 million
Avatar: The Way of Water- $10.8 million
Puss in Boots: The Last Wish- &.95 million
BTS Yet To Come in Cinemas- $6.3 million
Next week, James Cameron sends Titanic back into theaters, while the biggest opening will be for Magic Mike's Last Dance, though the lack of promotion and a smaller theater count is a little strange for that one. It was supposed to be for HBO Max, but then they decided to give it a half-assed theatrical run. Strange decision there. Look for Avatar to possibly move back into the top position, though with the healthy discounted ticket sales, don't be surprised if 80 for Brady sneaks up there for a week.