Krypton Season 1, Episode 8 Recap: Savage Night
This article contains spoilers for Krypton season 1, episode 8, 'Savage Night'.
.
.
.
.
.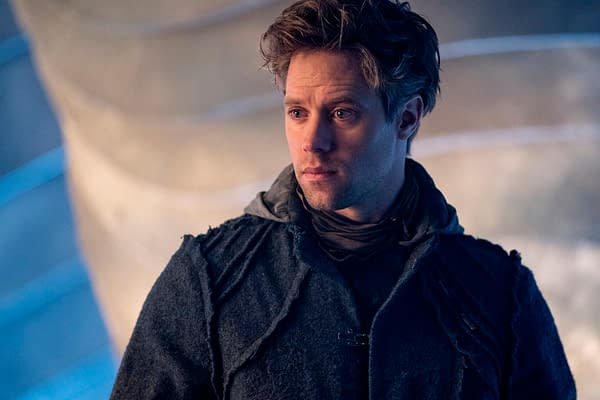 Of all the DCTV-related television series on the air right now, Krypton is the one that surprises me the most — and this latest episode is no exception. This is a big Adam Strange (Shaun Sipos) episode in that we get to see some background on him. It starts by flashing back to when he first met Seg-El (Cameron Cuffe), told him about Superman, and gave him the key. When he disappears, Adam ends up back on what I'm guessing is supposed to be Rann, the planet he normal travels to from Earth. There are two voices deciding what he should be allowed to do — the first is Sardath and the second is Alanna. Sardath is the head scientist on Rann, according to the comics, and Alanna is his daughter who ends up marrying Adam. It's not clear where we are in the timeline — they seem to think Adam is kind of a loser and not the Defender of Rann that he becomes.
Back on Krypton in the shows "today". Adam tracks down Kem (Rasmus Hardiker), who promises to try to get Seg to come talk to him. On his way back to Seg and the others, Kem comes across Sevi (India Mullen), one of the servants of the Voice of Rao. She explains that the Voice goes into the birthing matrix and is draining the energy form all of the embryos. But he goes into a trance when he's doing it. She also tells Kem that Ona (Tipper Seifert-Cleveland) is safe because the Voice likes her.
Back with Seg and the others, Kem talks about what he learned, and a plan is formed. They split into two groups. Dru-Zod (Colin Salmon) and Jayna-Zod (Ann Ogbomo) will go meet with Black Zero to get some troops so they can attack the Voice when he is vulnerable. Seg, Lyta-Zod (Georgina Campbell) and Nyssa-Vex (Wallis Day) will head to the Outlands to retrieve the body of Dev-Em (Aaron Pierre) so they can use his connection to Brainiac to figure out how to break his control over the red guard.
The meeting with Black Zero goes well; they meet the leader Jax-Ur (Hannah Waddingham), who is willing to help in exchange for Daron-Vex (Elliot Cowan) when it's over. Nyssa agrees to those terms. Seg and the others find Dev, and he's alive — but barely. They take him back to the fortress, where the AI of Val-El (Ian McElhinney) begins working on a way to break the connection and possibly save Dev's life.
Kem skips the clandestine stuff to try and find Ona. Adam catches up with him and decides to help so that once she's found, Kem can get him to Seg. When they do find her, she is still dedicated to the Voice and he can't get her to come with him. They have to leave as Sagitari approach. Kem, frustrated, goes off on Adam and tells him to just go home — that Seg will never listen to him. Adam decides on a new plan and gets himself taken to see Daron, where he tells him what's going on.
Daron goes to the Voice (Blake Ritson) and tries to set up security, but he is in the birthing matrix — in his trance — and not listening. General Zod, Seg, and Black Zero move in while Nyssa and Lyta work with Val to break the connection. He finally does and Zod gets his shot on the Voice, but he comes out of his trance just in time to save himself. But in the fight, Seg gets a shot off and the Voice plummets to what seems to be his death. Daron is captured and the Reg Guard are out of commission. Dev is saved but is missing an arm. It appears Kandor is safe… except it's not, and the Voice returns. He's damaged, but he does something to Ona and sends her back to Kem. Adam sees this and follows.
Meanwhile, Jayna had been talking to Dru and found out how he escaped the destruction of Krypton and why he was in the Phantom Zone. She tells Seg that she thinks he didn't come back to save Kypton, but to rule it. Ona walks into the bar and starts glowing and beeping in front of Seg and Kem. Adam races in and hits the Zeta Beam projector that causes a shield to go up around him, diverting the blast away from Kem and Seg. He then disappears and ends up in some place different then we saw before. There is a woman (Natalia Kostrzewa) there who isn't moving — until he gets close and her eyes shift to look at him. It's obvious Adam has no idea where they are.
The Verdict
I didn't expect them to confront the voice already and then didn't expect it to survive. I figured killing the Voice would only make Brainiac come to Krypton faster. It's not like they were killing the actual Brainiac. I was also surprised that they name dropped both Sardath and Alanna here. I don't think the girl at the end was Alanna, who has always been a brunette. And I'm curious how Sardath plays into saving Superman. It also seems interesting that they're swinging General Zod back over to the bad guy side.
What's Next
At this point there are two episodes left, and I'm not exactly sure where they are going to end up. Kandor is supposed to be taken, causing the planet to explode and Superman going to Earth. I don't think they can let that happen if they want to have a season 2, unless everything moves to another city. And then what is the new intrigue? We haven't heard if there will be a second season. At least they called the next episode 'Hope'.