Black Panther changed the MCU, without a doubt. From shattering box office expectations to inspiring a new generation of heroes, director Ryan Coogler created something for everyone with his Wakanda film.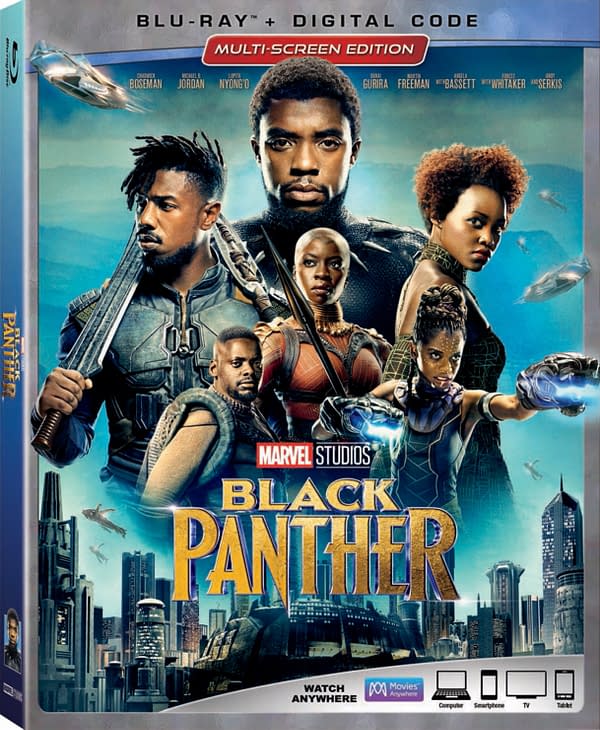 I've personally been really looking forward to getting my hands on the home release of the film, so I could dive back into the incredibly rich visual world, and hopefully learn a thing or two from the special features. (You guys know of course how much I dig those.)
The digital and Blu-ray release of Black Panther comes loaded with special features: five featurettes for the film, a gag reel, deleted scenes, a director's commentary (and intro), as well as the "10 Years of Marvel" featurette that's also on the Thor: Ragnarok release.
My only *real* complaint is that once again, it feels like certain aspects are glossed over. Namely: the costumes and incredible hair design. Designer Ruth Carter (whom we've interviewed) and her team really outdid themselves with the mixture of different African tribal representations and technology, and I was hoping for a deeper dive into that process. You can find those videos elsewhere, which still seems strange to me, why not just put them all together?
Also, not a single mention of the score, the use of drums and tribal instruments to create the tone. Weird omission.
Yes, there have been several videos released since the film was in theaters about the subject, and I guess I'm just surprised that studios aren't pulling all of those things together into the BTS selections.
I digress. Here's what we learned while watching the special features:
Crowning A King:
Kevin Feige talks about Civil War, introducing Black Panther along with the other first time introduced characters.
"We know we loved him and wanted him to be a part of the MCU." – Nate Moore, producer
Ryan Coogler: "Biggest departure, not just comic books, but in movies in general."
Vibranium and Wakanda are important to the MCU in general
All these MCU films stand apart; it's not on an alien planet or deep mythological roots like Thor, it's right here on Earth. An entire movie that focuses on his world." – Kevin Feige
Coogler: "He's dealing with the loss of his father both on a personal and professional level — the biggest promotion of his life."
In the African culture there is a huge reverence for your ancestors. The ring is his talisman; it represents his father and his responsibilities as King now.
Chadwick Boseman: "He has to look out for an entire nation, for their place in the world."
Feige touches on the Black Panther's roots, his political history, and his being "smarter and stronger than the other heroes."
Danai Gurira says the film is deeply loyal to the African tradition — who they become as a people as they progress. Marvel films deeply interact.
The Hidden Kingdom Revealed:
A look at Wakanda, the world there. "It's a bit other worldly, not like Asgard, but not like anything we've seen," Moore says.
Coogler: A big part is staying out of the spotlight, in the shadows.
Winston Duke calls Wakanda different than anything we've ever seen and powerful
Chadwick says that Ryan had a very specific view of Wakanda, what he wanted to show and see.
Ryan wrote the film while visiting Africa. He sent photos and shells and clothing to production designers.
Ruth Carter's (love her!) work comes from a place of African culture and fantasy and imagination
Wakanda was pulled from both publishing and the real world
Letitia Wright: The film takes inspiration from tribes all over the content
Winston talks about how the wooden structures of the mountain tribe is an embodiment of how grounded the tribe is to the earth
Daniel Kaluuya talks about watching filming, the different people working together
They use the native language of John Kani, who played T'Chaka
Beth McGuire, dialogue coach: They wanted M'Baku's tribe to sound different, so from West Africa for language
Chadwick points out that Wakanda is made of different tribes with different points of view and different goals. People who don't believe that Wakanda should be out there in the world.
Ruth says the story is relevant, we need to bring some life back to the differences in our cultures, we all live here, we all live here together.
Letitia says the film will stand out, because it embraces African culture.
Lupita Nyong'o says Wakanda is something to aspire to, something we could be and should be.
The Warrior Within:
Female leadership is prominent; his circle is filled with women, his advisors are women. Women at the forefront.
Angela Basset says her dream was to show an African American woman as a queen. "Being a mother, I understand. Knowing the strengths and weaknesses, and supporting him."
Ryan says that Angela, Letitia, and Chadwick felt like a real family
Letitia says Shuri is the mind, T'Challa goes out and fights with his body.
Nakia is very much T'Challa's equal, but some natural friction.
Lupita: "If they were on Facebook, their relationship status would be 'it's complicated'."
Winston: She's dangerous and strong and independent
I felt secure with them, Chadwick says of Lupita and Danai
Okoye is Wakanda's James Bond.
The stunt team says they had months of trying to find enough women to fill out the Dora
Ryan says women are the backbone of any society
Winston says the women as leaders, as warriors, women not limited by conventional ideas of felinity, they're beautiful capable and deadly. All these things, they're not confined to any one stereotype.
Exploring The Technology:
Ryan says Wakanda is a fantasy of what Africa could be if it were in charge of its own resources.
Some really nice close shots of the design of the Dora spears
Hannah Beachler, production designer, says she took pieces from Jack Kirby's ideas and brought them into the 20th Century. "We didn't want them to be spaceships, but we wanted them to be luxurious; all the bells and whistles that vibranium could give them."
Chadwick says that being a world leader is not a job the normal heroes have
Winston says that Wakanda is the hero, and that Vibranium is their super power.
From Page to Screen: A Black Panther discussion with the writers and filmmakers:
Christopher Priest, writer on Black Panther comics, says the film works on all different levels. "Bring the kids to this one. The comics showed what a progressive thinker Stan Lee was and still is to this day."
Don McGregor writer on Black Panther comics, says when he was given the book, "they believed it was going to die, that he wasn't an important character. We were able to do what we did on it, because they didn't read it, so we were able to put things in."
Ta-Nehisi Coates talks about the death of T'Challa in the comics, how in the '70s no one was doing something like that, and "continued to be revolutionary in this film."
Moore says the team at Marvel was very small; there weren't "lawyers reading scripts."
Joe Robert Cole, one of the writers on the film, mentions that there were so many people "pouring their hearts into finding the best way to tell the story of this character."
Ryan says he likes to start out films with a question. This one was: what does it mean to be African? "I tried to ground the film in the Continent, much like how the MCU is grounded in the real world." Borders, identity, conflict.
Don takes a moment on a personal level to exclaim about having Angela Bassett play a character he wrote. "Wow! Okay, I'm happy, I can die happy now."
Seriously, this is the type of thing I was hoping for from the special features. Fans of the Black Panther comics will want to pick up the disc for this discussion alone.
Ryan says that he identified more with Killmonger at first, "I have both these characters living inside of me. I think every black person has them inside of them."
Gag reel:
Lots of dancing.
"Exciting shit happenin' up in here," says Angela.
Normal line flubs, some props not cooperating.
Wish it was 18 times longer.
The Deleted Scenes:
A visit to the United Nations, T'Challa arriving with Okoye and Nakia, Ross warning T'Challa not to do the reveal of Wakanda. Ross says he'll do his best to keep the world off his back. Ross responds with some butchered words of Wakanda's language, and it's adorable. It should have stayed in.
The scene with Nakia and M'Baku fighting, which you can see here.
A scene of T'Challa coming back from the dream plane, telling Forrest Whittaker about seeing his father, about words of wisdom from T'Chaka.
A scene with young Nakia and T'Challa sneaking visiting the Wakandan city of the dead, finding T'Chaka there, who tells T'challa about a tough choice he had to make. Theoretically, this was on the King's return from Oakland.
***
Thank you again to Disney for being awesome, and to Marvel Studios for continuing to set the tone of what superhero films can and should be. Black Panther hits digital on May 8th, with 4K Ultra HD, Blu-ray and DVD release set for the 15th.
Wakanda Forever.
Enjoyed this article? Share it!