Let's Talk About Genius Season 2, "Picasso: Chapter 1"
National Geographic premiered the second season of their original series Genius, which centers on Pablo Picasso. Antonio Banderas is playing the passionate painter in his later years in life, with Alex Rich playing young Pablo.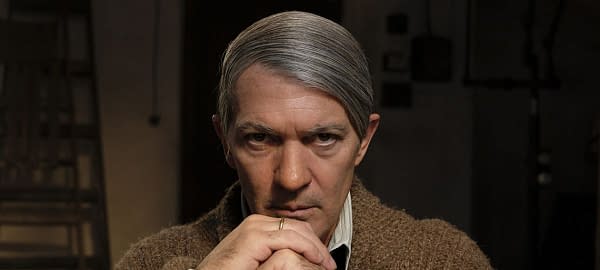 The first season of the series focused on Albert Einstein (played by Geoffrey Rush) and delved into his relationship with his parents as well as his wife and later ground-breaking work. It received multiple award nominations for both production and acting.
Already announced, the third season will tackle Mary Shelley, but no word on who will be playing her yet.
Tonight's first episode of the season:
Pablo's birth, his father blowing cigar smoke into the non-breathing baby's face.
Obviously, the baby survives.
Young Pablo attends a bull fight with his father, mesmerized by the matadors
His first painting is of the fight, and he proclaims to his father that he wishes to be a painter like him
Another time jump sees adult (and somewhat older) Pablo painting with his daughter.
"Well, she's a critic, the only one I've ever loved."
A pair of men come to Picasso's studio and request he paint a mural for the upcoming World Expo, telling him that his work might shed light on the facists
"I paint what I want, and what I feel, not what someone pays me to."
Another flashback, to young Pablo's sister passing away, after he promised God to give up painting if only Maria was spared
As an adult, Pablo's mistress reads to him about the ancient town of Guernica being destroyed by an air raid.
We see Pablo start to plan out his piece, Dora Maar (

Samantha Colley

)

taking photographs of him
Due to his uncle's belief in his talent, Pablo goes to Madrid to learn
His teacher tells him that he doesn't understand geometry, form, art
While camping in the mountains with a Spanish American War draft dodger friend, Pablo comes up with his artist name, saying that his father's surname Ruiz was 'too common'
A rainstorm hits, and all the paintings hung to dry during the day are ruined, dripping color like blood on stones
A chick fight breaks out in the studio, Dora and Marie-Thérèse Walter, as Pablo paints on in glee
The first episode ends with a flash forward, to the invasion of the Nazis and the boxing up of paintings by a seller. He encourages Pablo to leave, "I can get you a visa."
Pablo will not run, will not leave his paintings.
The use of the flashes forward and back to fill in the blanks of Pablo's life and explain the importance of his emotional tone really works in this instance, is- for lack of a better term, genius. It'll be interesting to see if the pacing stays strong.
Genius airs on NatGeo on Tuesdays.