Let's talk about America's Next Top Model cycle 24 episode 8, "Beauty Is Social". The remaining 7 contestants will be testing their social media chops this week, taking on media maven roles to compete in a digital campaign for supermodel Jourdan Dunn's Londunn clothing line.
Also, if you missed it last week, you can catch up on what happened here. Don't forget that VH1 has this cycle's episodes on their website, within a day or two of airing. And you can watch the interview segment with judge Drew and the girl that went home in episode 7 here.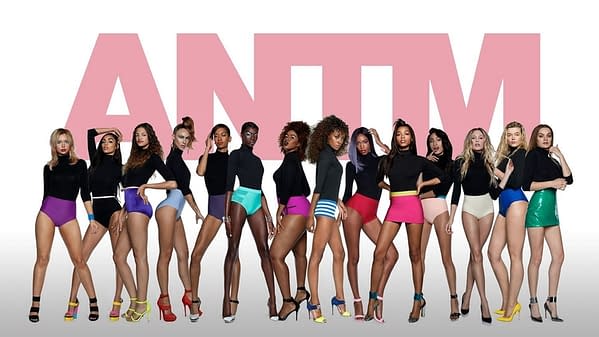 As a reminder, prizes for the winner of this cycle of America's Next Top Model include a cover and spread with Paper magazine, modeling contract with Next Management, and the new twist this year: an ANTM mobile game where the winner will be an avatar along with Tyra, and $100k from Pantene.
Check back throughout the episode, we'll be updating live as it airs.
Things that happened:
Tyra started out the day with a selfie 101 class on twitter
The episode begins with the girls coming home and putting ALL of their top photos on the photo wall
We all thought that maybe tensions would be better in the house with Christina being gone, but now it's looking like Rio is also a source of drama of the girls.
Kyla reveals during high school, a brain injury that happened has had lasting effects on her
Jeana approaches Rio about the issue, that Rio called Kyla stupid, and Rio denies it
TryaMail#1: "Followers, likes, this week is all about social media and social media today you can take you to the next level"
Tyra shows up after the mail plays, saying she's tired of mirror selfies.
"I want to teach you girls and the rest of the world how to take a mirror selfie," Tyra says
She proceeds to give a "masterclass" with tips, including how to spell ciao (Crop It All Out)
Tyra introduces Jourdan Dunn
The challenge is revealed, the girls need to be 'influencers', repping Jordan's brand Londunn. The winner will be featured on Jordan's instagram account, of over 2mil followers
There is a mad dash to grab clothing off a rack and snap shots
Rio calls Kyla's inability to take a 'proper selfie' stupid, so, obviously YES she says such things
Khrystyana reveals some of her instagram posts, saying that it wasn't until she posted unedited raw photos with her belly that she got bigger numbers.
Erin is really struggling with the challenge, she self proclaims she doesn't use social media.
The winner of the challenge is Jeana, who will get featured on Dunn's instagram, and she gets to keep her Londunn outfit
Kyla confronts Rio, and instead of saying just "sorry", Rio tries to explain that it was a misunderstanding.
TyraMail #2: "I always feel sorry for male models- they always have to have a 6pack."
The girls start to talk about what they think the challenge is
The girls arrive on set, there are streamers everywhere and Tyra is there
She introduces the photoshoot, "creating unexpected content" with male brawny supermodel Zach Miko
Jeana gets to pose with Zach in her photo as part of her win from the first challenge
Zach reveals he's going to be posing without his shirt on for the first time
Tyra says the girls are going to be picking their own partners from a casting call, the girls will be dripping in gold, and Tyra herself will be the photographer
Tyra does a photo reveal like the end of panel for each of the men picked to join in the shoot
Khrystana is hesitant to pose with a male model, after last week's emotional reveal
She doesn't do so well during the photo session, and my heart goes out to her
Drew says that Rio is falling in her ability in shoots
Kyla really brings it this time, gotta admit
Kyla drops a "When's Life Sized 2 coming out?" and Tyra starts laughing
Brendi takes a bit to come to life
Jeana bonds a bit with Zach before their shoot
He is so BIG compared to Jeana, I didn't think she was that short
The shoot wraps, and the girls head back home and start talking about the upcoming panel
Panel starts, and Tyra reintroduces the judges; Drew and Ashley, because Law couldn't make it to this round. She introduces Jourdan Dunn as a special guest judge for this episode.
Tyra goes over the prizes again
Rio gets told her male model beat her in the image, and I have to agree
Shanice's backbend is GORG
Khrystana didn't do so hot, but the photo is good
Erin did well
Brendi's gold makeup was HORRIBLY applied, and she shouldn't be blamed for it
Kyla totally rocked, her photo shows that
Best photo this week is Kyla
Next is Jeana, then Shanice, Erin, Brendi, and Rio.
It's down to Khrystyana and Sondra
Khrystana gets to stay, Sondra is going home

Join us next week for ANTM c24e9.

Enjoyed this article? Share it!