Let's Talk About 'Nailed It!' on Netflix: Cake Fails for a New Generation
If you spend much time on social media, chances are you've seen any number of photos/videos/etc. of the "Nailed It!" trend — when someone tries to recreate a Pinterest recipe but doesn't quite nail it. Netflix decided this would be the perfect basis for a new 30-minute series on their streaming service.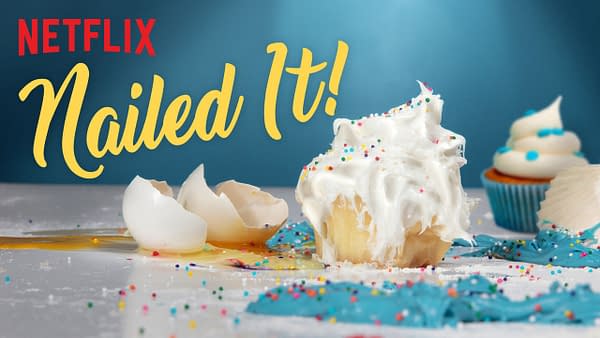 Lemme first say that I really love cooking shows. Food Network and Cooking Channel are pretty much on all the time at my house, unless I'm in the process of reviewing something. It's like the best of reality television, but with delicious rather than The Bachelor results — and who doesn't want to see Bobby Flay lose? Netflix has an amazing selection of food-centric series (Mind of a Chef) and documentaries (Chef's Table) that I've devoured over the years, so this series appealed to me immediately.
Okay, so Nailed It! is a competition show (ish) hosted by Nicole Byer and Jacques Torres where home bakers who are mostly good at what they do have to recreate famous bakers' confections with a limited time allotment, but also a provided set of steps to help them complete the challenge.
The winner of the first challenge is presented a button that they can press to have three minutes of expert advice during the next challenge, as well as a "Nicole Button" that will send Byer to the competition's stations to annoy them for three minutes.
When the judging takes place, the contestants unveil their items and shout "NAILED IT!" You'll feel bad laughing at the results, but that's sort of the point of the show.
There are only six episodes available, and I'll admit — I would watch the hell out of another season.